Sommore Addresses Sheryl Underwood Beef
Comedienne calls The Talk host a "phony."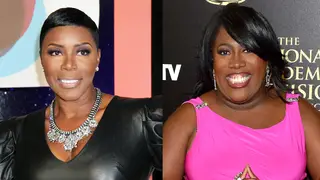 Last month, Sheryl Underwood made waves when she alleged that she overheard the Queens of Comedy — Sommore, Adele Givens and Laura Hayes — dissing her on a conference several years ago. The revelation sparked a feud between the host of The Talk and her fellow funny ladies, who claim she made up or at least exaggerated the anecdote. 
Now, the Comic View host is speaking out about the beef and making it clear that she and Underwood don't see eye to eye about the incident. The comedienne tells The Breakfast Club, "Sheryl Underwood, Jesus...Miss Underwood was never considered to be a Queen of Comedy. Never. What she was talking about was the project that we were discussing about going into prisons and doing comedy for inmates. And she overheard a conversation about us." 
She goes on, "You know, when you're doing business, when it comes down to the details of things, sometimes you don't really want to hear all that." 
Sounds like Sommore isn't exactly denying that unkind words were spoken about Underwood. The comic goes on to say she felt blindsided by Underwood airing their dirty laundry on live TV. "And the thing that bothered me about it was that I seen her about two weeks before she said this on television. And we were at Steve Harvey's Hoodie Awards, and she did this skit where she called up all the comedians on stage and she was calling me. All the people that was there, they can attest to this. She kept saying 'Sommore, come on up on stage.' And I didn't go. Because first of all, I don't rock with her like that. And one thing I'm not, I'm not phony. I don't rock with her like that."
(Photos from left: DJDM/WENN.com, Jason Kempin/Getty Images)