Obama Celebrates Equal Pay Day With Two Executive Actions
President Obama signs executive orders to close gender pay gap.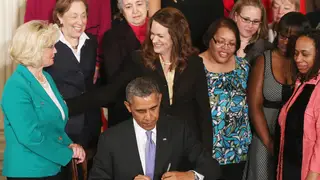 Discussions about how much money one earns is usually discouraged, especially in the workplace. But one of two executive orders that President Obama signed Tuesday afternoon would make it easier for some workers to find out how much their colleagues make to determine whether or not they are being fairly compensated.
The order prohibits federal contractors from retaliating against employees who choose to discuss their pay rate or salary, although no one is compelled to do so. It also applies only to companies with federal contracts, but the president is urging Congress to extend the protection to all American workers.
"Restoring opportunity for all has to be our priority, making sure the economy rewards hard work for every single American," said Obama, flanked by a multi-cultural and generational group of women in the East Room of the White House. "Because when women succeed, America succeeds."
According to the White House, women earn 77 percent of what their male counterparts are paid.

"Ultimately, equal pay is not just an economic issue for millions of Americans and their families. It's also about whether we're willing to build an economy that works for everybody, and whether we're going to do our part to make sure that our daughters have the same chances to pursue their dreams as our sons, and whether or not we're willing to restore to the heart of this country that basic idea — you can make it, no matter who you are, if you try," Obama said.
The second action instructs the secretary of labor to establish new regulations requiring federal contractors to submit data on compensation paid to their employees, broken down by gender and race. The information will help in efforts to enforce equal pay and can be a tool to help make employers aware of existing pay gaps.
The Senate is set to vote on a similar measure Wednesday called the Paycheck Fairness Act, although it will likely falter in the House.
Republicans are arguing that the bill is a "desperate political ploy" that American voters are smart enough to see through.
"The Paycheck Fairness Act doesn't provide paycheck fairness for women. In fact, it will cut flexibility in the workplace for working moms and end merit pay that rewards good work — the very things that are important to us," said the Republican National Committee said in a press release.
The RNC and two other GOP national committees also pointed to an equal pay gap at the White House and pay gaps in the office staffs of some Democratic senators up for re-election this year to try to make their point.
But Obama struck back, calling out GOP lawmakers for their unwillingness to support efforts to help level the playing field by with a vote for the Paycheck Fairness Act.
"This isn't just about treating women fairly. This is about Republicans seemingly opposing any efforts to even the playing field for working families. I don't know why you would resist the idea that women should be paid the same as men and then deny that that's not always happening out there," Obama said, adding that if GOP lawmakers want to prove him wrong they can do so with their vote for the legislation.
A Pew survey taken last fall found that a majority of American women and men seem to side more with Democrats on the issue. It found that 72 percent of women and 61 percent of men believe "this country needs to continue making changes to give men and women equality in the workplace."
BET Politics - Your source for the latest news, photos and videos illuminating key issues and personalities in African-American political life, plus commentary from some of our liveliest voices. Click here to subscribe to our newsletter.  
 (Photo: Mark Wilson/Getty Images)