LOL: Kim Kardashian Is Doing The Absolute Most To Become BFFs With Meghan Markle
You won't believe what she offered the future royal.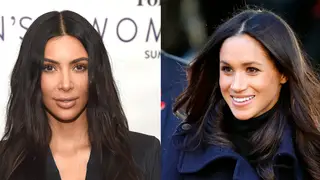 Shoot your shot, girl.
Kim Kardashian, who loves to call herself Princess Kimberly, has set her sights on getting into the inner circle of an actual future princess by the name of Meghan Markle. (You might have heard of her? She's going to marry a guy named Harry in a few months.) Apparently, Kim will stop at nothing to secure an invitation to the royal wedding and is offering up some mayyy-jor swag to buy a friendship with Miss Markle.
Get more Meghan Markle news with BET Breaks, above.
According to Hollywood Life, Kim is pretty much obsessed with the actress and her story and wants them to be friends. 
Sources claim that Kim K. is "pulling out all the stops" to get an invitation to Prince Harry and Meghan Markle's highly anticipated nuptials at Windsor Castle.
The insider went on to add that the reality starlet has an affinity for the royal family, in general, as she "tried hard to befriend William and Kate" in the past, to no avail.
The site reports that Kim is using her connections to get in Meghan's good graces.
"She's arranged for diamond earrings that match Meghan's engagement ring to be designed as a gift," an insider for the family reported.
That's not all. She's reportedly using her husband's resources as well as, according to the site, she "plans to offer [Meghan] and Harry a private Kanye concert, since she knows the prince is a fan."
"She's determined to make this happen," the source said.
Well, only time will tell. Will you be here for Meghan Markle and Kim Kardashian becoming BFFs?