Here's Where Serena Williams Is Getting Hitched TODAY
Baby Alexis will have a special role in the ceremony!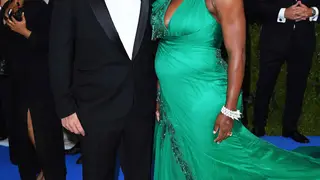 11 weeks after giving birth to daughter Alexis Ohanian Jr., Serena Williams and Alexis Ohanian Sr. are finally tying the knot — today! It's all going down in New Orleans at The Contemporary Art Center, where Serena and her sisters Venus Williams, Isha Price and Lyndrea Price were seen earlier this week checking on the venue. And, of course, the tennis champ and Reddit co-founder tapped the best of the best to put together their nuptials, celebrity wedding designer Preston Bailey.
A Preston Bailey affair is always over-the-top (he's done events for Oprah!), so it's not surprising that a carousel was spotted onsite. Tableware and cases of wine were loaded into huge, white, air-conditioned tents in the parking lot that are to hold about 250 guests.
As expected, this shin-dig will be kept heavily under wraps, The Daily Mail reports Serena is banning cell phones and any photos from the event after signing an exclusive deal with her friend and editor-in-chief  of Vogue, Anna Wintour to feature pictures from the event exclusively in mag. We can't to see pics of Baby Alexis at the wedding, who is rumored to have a very important  role during the ceremony.
"Alexis will have a babysitter on hand just for her the entire night," a source told DailyMail.com.
"Both parents wouldn't dream of not having her there. She will be a part of the wedding as much as possible for an 11-week-old. They are totally and utterly besotted with her."