Thirsty Trump Fished For A 'Thank You' From LiAngelo Ball And His UCLA Teammates, And He Got It
Here's how the Bruins' ballers thanked the president after their shoplifting arrest in China.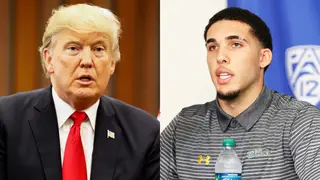 Hours after LiAngelo Ball and his UCLA basketball teammates returned to Los Angeles last night following their shoplifting arrest ordeal in China, President Trump tweeted Wednesday morning and asked, "Do you think the three UCLA basketball players will say 'thank you President Trump?' They were headed for 10 years in jail!"
Well, his thirsty request has been fulfilled because Ball, Cody Riley and Jalen Hill each took turns thanking Trump during their press conference Wednesday afternoon. 
"I would like to thank President Trump and the United States government for the help they provided as well," LiAngelo Ball said during today's press conference, as reported by BuzzFeed News.
Riley added: "To President Trump and the United States government, thank you for taking the time to intervene on our behalf. We really appreciate you helping us out."
Videos of each of their apologies can be found below.
Trump reportedly personally spoke with the Chinese president, Xi Jinping, to resolve the players' shoplifting arrest and paved the way for charges against them to be dropped.

While the Bruins' trio of players are appreciative for the assist Trump threw them to help their return home, people are already wary over how the president's supporters will invoke this incident in their future arguments.
In addition to thanking Trump, each player took the time to apologize for the incident. They were arrested for stealing sunglasses from a Louis Vuitton store in Hangzhou adjacent to the team's hotel last week.
"I didn't exercise my best judgment, and I'm sorry for that," said the 18-year-old Ball, as reported by ESPN. "This does not define who I am. My family raised me better than that."
Ball, Hill and Riley have been suspended from the team indefinitely, as also announced during today's press conference. Bruins men's basketball coach Steve Alford said that means the three players will not be able to practice nor travel or suit up for road games, while UCLA reviews their situation.
"They will have to earn their way back," Alford said, as reported by ESPN.
He added: "These are good young men who have exercised an inexcusable lapse of judgment, and now they have to live with that."
BET Sports News — Get the latest news and information about African-Americans in sports, including weekly recaps, celebrity news and photos of your favorite Black athletes.