Disrespected Again! The Kardashians Latest Move Toward Blac Chyna Will Ruin Her Holidays
They're pretty much done with her.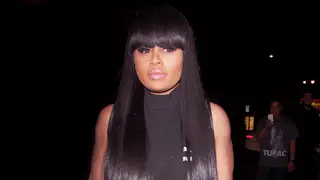 Blac Chyna's soon-to-be in-laws aren't really fans of hers after her public blow out with Rob. They're so over her that they reportedly did not invite her to their Christmas party.
According to People, Kris Jenner is set to host her annual Christmas party this weekend, and Chyna's name isn't on the guest list on purpose.
"Rob's family is over Chyna," a source said. "She is not invited to Kris' holiday party... Rob's family is trying to distance themselves from Chyna. They can't stand the toxic relationship. They very much care about baby Dream though. It's just come to the point when they think Rob is better off without being in a relationship with Chyna."
To make matters worse for Chyna, the Kardashians reportedly "don't support the relationship" any more.
"At least some of his family members want Rob to split up with Chyna so they can say, 'We told you so, Rob. You deserve better,'" the source added.
For more on Rob and Chyna, check out the video, above.