Whoopi Goldberg Admits She Never Loved Her Husbands
She says she had other motives for getting hitched.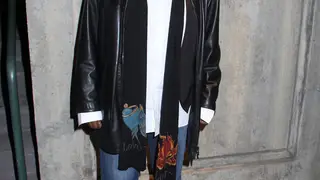 Frank Sinatra once sang, "love and marriage, goes together like a horse and carriage." Not necessarily for Whoopi Goldberg.
During a discussion on CNN's Piers Morgan Tonite, The View host admitted to never loving any of her three husbands. Her first marriage, to Alvin Martin, lasted from 1973 to 1979. The second, to David Claessen, went from 1986 to 1988. And her last marriage to Lyle Trachtenberg lasted only a year, from 1994 to 1995.
When Piers Morgan brought up relationships and the three marriages, Goldberg responded: "I suppose that, you know, you have to actually be in love with the person that you marry. You have to really be committed to them. And I'm just—I don't have that commitment. I'm committed to my family, you know, and so, hence, for that relationship has lasted, you know, the longest."
Admitting that she wasn't in love, Goldberg said she married her former hubbies because she "wanted to feel normal."
 "It seemed to me that if I was married," she revealed, "I'd have a much normal—more normal life. But clearly, that's not the case. That's not a good reason to get married. You have to actually want a life with someone through ups and downs. And I...I just discovered that wasn't for me."
She did admit to being in love once, but would not give any details other than it was a man and that they currently are friends.  
(Photo: S.Bergman/JPegFoto/PictureGroup)