Damon Wayans to Bill Cosby's Accusers: His Penis Gave You Amnesia?
"It's a money hustle," the legendary comedian says.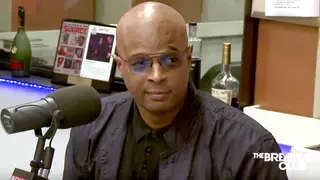 Birthday boy Damon Wayans stopped by Power 105's The Breakfast Club for a quick chat about everything from his career come-up to his air-tight family bonds. The real highlight of the conversation, however, came when the comedy icon shared his controversial thoughts on the heavily publicized Bill Cosby scandal. When asked what advice he would give to the once revered TV dad, he gave a response that was anything but filtered.
"Tell the truth. If I was him, I would divorce my wife, give her all my money and then I would go do a deposition. I would light one of [those] three-hour cigars. I'd have some wine and maybe a quaalude and I would just go off, because I don't believe that he was raping," he said. "I believe he was in relationships with all of them and then he's like, 'You know what? [I'm] 78. It don't work like that no more. I can't get it up for any of y'all. Bye, b*****s' and then they're like, 'Oh, really? Rape!'"
After stating that he felt some of the accusers intentions were purely opportunistic, he went on to ask a question that is likely to rub some the wrong way. "How big is his penis that it gives you amnesia for 40 years?," he asked. "If you listen to them talk, they go, 'Well, the first time...' The first time? B***h, how many times did it happen? Just listen to what they're saying and some of them really [are] unrapable. You just look at them and go, 'You don't want that. Get outta here.'"
Ending his statement, the My Wife & Kids star gave an interesting connection as to why Cosby's fall was so brutal. "You know what Bill Cosby did wrong? He started criticizing young Black men and then he lost us and so we're not supporting him and they see that opening so now, you know what? 'Attack him! Kill him!' But the dude from 7th Heaven, his show's still on TV. Woody Allen's making shows and movies... I just don't believe this. It's a money hustle."
Take a look at the full interview below:
BET.com is your No. 1 source for Black celebrity news, photos, exclusive videos and all the latest in the world of hip hop and R&B music.