Creepy: You Won't Believe Who Laura Govan Compared Gilbert Arenas To
The reality star hit below the belt with this one.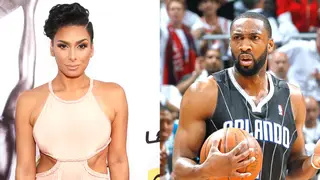 It's no secret that Laura Govan and her ex Gilbert Arenas hate each other, but the Basketball Wives star went a little too far with her latest comments.
During a recent interview with the Hollywood Unlocked podcast, Laura was asked if she ever fears for her safety when it comes to Gilbert. Well, her response is pretty shocking.
Asked if she feels "the relationship is toxic enough for you to fear that it'll end up with him hurting you," Govan responds: "I do think about Nicole Brown a lot, not gonna lie."
Realizing she may have gone too far in comparing her ex husband to alleged killer O.J. Simpson, she then quickly tries to dial back her comments, before deciding that yes, she does want to go there. "Not in the sense that, 'do I fear for me life?' [pause] ...sometimes I do, I'm gonna be 100 with you."

She continues, "There's a lot that y'all don't see. You just see him posting the children, and 'life is great,' but, there's so much more to a Snap."
Whoa. She went there. Watch for yourself below:
One thing is clear, this former couple, who have four kids together, will stop at nothing to hurt each other. It's barely been a couple of weeks since a judge ruled that Laura did, indeed leak emails falsely claiming Gilbert has STDs, so we can only imagine the fallout to come from this interview.
Of course, if Laura does indeed fear for her life, she should talk to police, and not just the media.
Laura and Gilbert's petty behavior make Future and Ciara's battle seem like child's play. ICYMI, find out why the singer is suing her ex for $15 million with BET Breaks, above.