Ye Is Actively Working On 'DONDA 2'
Steven Victor, COO of G.O.O.D Music, says this will be the rapper's first-ever sequel LP.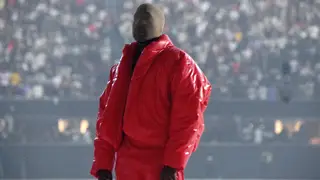 Ye, the artist formerly known as Kanye West, has had a polarizing 2021.
From earning Grammy Award distinctions to reconciling with Drake, and his very publicized divorce from Kim Kardashian, it seems that nothing will stop him from getting out his next effort, Donda 2.
In an exclusive chat with Steven Victor, the chief operating officer of G.O.O.D. Music shared that Ye is actively in the studio, telling Complex, "Ye has started working on his new masterpiece, DONDA 2."
If DONDA 2 remains the project's official title, it will become Ye's first sequel LP in his discography, mirroring other efforts by rappers like Nas and Jay-Z.
Donda, which was released back in August, featured guest appearances by The LOX, Fivio Foreign, Lil Baby, and debuted at No. 1 on the Billboard 200 chart. After tying Eminem for the most consecutive No. 1 debuts on the Billboard 200 chart, the LP, which was named after the rapper's last mother, was nominated for Album of the Year for this year's Grammys ceremony.
Donda became Spotify's second-biggest album debut of all time, garnering almost 100 million streams. And while Ye's 10th studio album had a series of delays, the high-profile public listening events across the country helped the album also reach No. 1 on Apple Music's top albums chart in 152 countries in 24 hours.