A Tribe Called Quest Celebrates The 25th Anniversary Of 'Midnight Marauders' With Special Capsule Release
Consequence talks to BET.com about the album's legacy.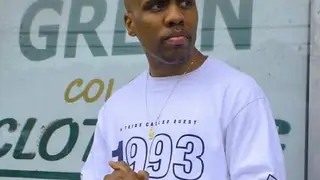 On November 9, 1993, A Tribe Called Quest released their classic Midnight Marauders. It was the group's third studio album and debuted at no. 8 on the Billboard album chart. The album delivered their highest charting hit on the Billboard Hot 100, which was "Award Tour."
Twenty-five years laer, the album is being re-released. 
Consequence of A Tribe Called Quest told BET.com, "Midnight Marauders is the quintessential masterpiece in A Tribe Called Quest's legendary catalogue. It is an album executed on the basis of precision and substance being placed at the forefront of its palette henceforth the reason for its staying power 25 years later."
On the re-release, he explained, "The MM25 Capsule collection celebrates not only the LP itself but also the year 1993,  which serves as a benchmark time period for hip hop's 'golden era.' Pieces included in the capsule are the Midnight Marauders hoodie, the '1993' long sleev + hoodie, the 'Find Your Tribe' long sleeve and the track listing tees which are t-shirts that individually have each song title and time code from the original artwork of Midnight Marauders."
This release is personal for Consequence, who was very hands on, "This holds significance due to the fact that my first release was 'The Chase Pt.2' on the B-side (when vinyl was a 'thing') of the first single 'Award Tour.' I personally oversaw the design of every item in this collection to make sure it was in line with what Tribe fans have come to expect from the brand."
Clearly, this collection is not only a must-have for Tribe fans but for hip hop fans all over. The MM25 Capsule collection can be purchased here.