Raekwon Weighs In on the Beef Between Nicki Minaj and Remy Ma
The Chef speaks on if she should respond or not.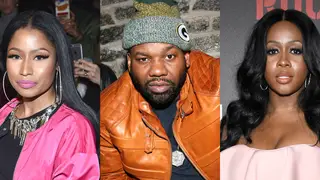 Considering Raekwon's expansive resume, with his decorated career spanning over two decades in the rap game, he himself has weathered various lyrical storms and witnessed plenty of others over the years. During a conversation promoting his forthcoming solo album, The Wild, the Wu-Tang member offered his two cents regarding the situation that could potentially be one of the most impactful rap beefs in recent memory.
During his recent sit-down with Billboard, Raekwon was asked what he personally would advise Nicki Minaj to do if he were hypothetically in her corner as opposed to keeping a safe distance and remaining neutral from the sidelines.
"She gotta really, really go for the gusto and just go air out s**t," he begins. "Remy comes from that school, and Nicki comes from that school in her way, too. It's just interesting. You know, we were talking about that earlier, if they were just to really get it in — two different styles, of course — but they're both New York chicks. That's what's gangsta to me. It's like being in a park and seeing a girl fight and they're getting it in. Get it in respectfully and tastefully, but go at it. It's fun."
From there, the Wu-Tang rapper dives into his own personal wealth of hip-hop history, even comparing their rising tension to the infamous Roxanne Wars that dominated in the mid-1980s and yielded almost a dozen fiery diss tracks from those involved.
"It's like Roxanne Shanté and 'The Real Roxanne,' you get the modern day of that," he continues. "But I want Nick to say something just because, nine times out of ten, what Nicki said, she knew what she was getting into when she said it. Remy loves this. She gets down. Remember, at the end of the day, she just gets busy. She just comes from that school. But Nick, she comes from that school in her way, too, but she found a lane and she cracked her lane. That ain't saying she can't give it to you if she has to."
To further live up to his reputation for always dishing up some timely and much appreciated wisdom, the veteran emcee also adds what can be interpreted as his entire view on rap beefs in general.
"My thing is, y'all get it off y'all's chest, get past it and then take care of your families," he concludes. "That's grown s**t."
Check out Raekwon's interview with Billboard in full here.