Producer's Guild to Recognize Badass Shonda Rhimes With Norman Lear Award
Scandal boss will be the first woman to recieve the coveted prize.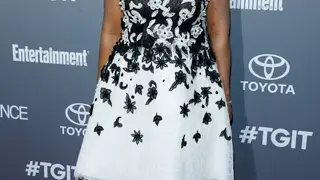 All she does is win.
Celebrating her nearly 20-year career in television, the Producers Guild of America announced Thursday that it is honoring TV titan Shonda Rhimes with the 2016 Norman Lear Achievement Award in Television.
"Shonda Rhimes is one of the most passionate and insightful storytellers in entertainment today. Her pioneering work on Grey's Anatomy, Scandal, and How to Get Away With Murder has redefined the role of women in media and spurred the debate about diversity in television," said Producers Guild Awards co-chairs Michael DeLuca and Jennifer Todd. "Like the intelligent, strong, and fearless characters she creates, Shonda is a true force to be reckoned with and we are privileged to honor her with this year's Norman Lear Achievement Award in Television."
The Scandal boss will receive the award at the 27th Annual Producers Guild Awards ceremony, held on January 23 in Los Angeles. She will join Mark Gordon, Chuck Lorre, J.J. Abrams and other TV legends who have won the Lear Award.
"To be the recipient of an award bestowed upon me by my peers in the PGA is truly an honor," said Rhimes. "The fact that the award is named after a legendary producer whose work has had such an inspiring effect on my growth as a writer is genuinely gratifying. I couldn't be more grateful for this special recognition."
Congratulations to Shonda Rhimes for continuing to kick ass in prime time. Watch a recap of her incredible career below:

BET.com is your No. 1 source for Black celebrity news, photos, exclusive videos and all the latest in the world of hip hop and R&B music. 
(Photo: Mark Davis/Getty Images)