Will Smith Says Racism Is 'Rare'
Also, he explained why he turned down Django Unchained.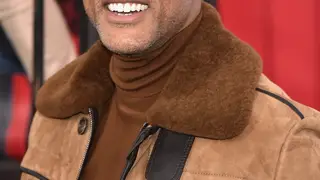 Will Smith thinks people often mix up the concept of racism and prejudice, especially when it comes to Hollywood perception. Recently, the actor was asked about the issue of racism by The Hollywood Reporter during their awards-season Actor Roundtable and he said that racism is actually "rare," but prejudice is much more rampant.
"Everybody is prejudiced," he said. "Everybody has their life experiences that make them prefer one thing over another — it makes them prefer blonde hair over a brunette; if you see somebody with dark skin walking down the street, you have a different reaction than you have [with] someone who is 5-foot-1 and white."
Delving into racism, Smith said that it's much worse and implies that "your race generally is superior. And I have to say, I live with constant prejudice, but racism is actually rare — someone who thinks their race is superior," he said.
The actor said on rare occasions he's come across people in the business who are actually racist and immediately decided not to work with them. The interviewer went on to ask if actors, themselves, can do anything to battle this kind of racism. While Samuel L. Jackson, the only other African-American actor on the panel, responded with a simple, "no," but Smith had a more optimistic approach.
"As actors, we have the ultimate power," he said. "Historically, story combined with imagery moves humanity forward. What we do — not that it's a responsibility, but it is the ultimate forum for changing people's hearts and minds."
Speaking of Samuel L. Jackson, who starred in the blockbuster smash Django Unchained, he and Smith could have been cast-mates as he was offered a starring role in the film. However, the Focus actor turned down the role because he and the film's director, Quentin Tarantino, just "couldn't see eye-to-eye." According to him, he wanted it to be a story about love, not vengeance.
"It was about the creative direction of the story," he said. "To me, it's as perfect a story as you could ever want: a guy that learns how to kill to retrieve his wife that has been taken as a slave. That idea is perfect. And it was just that Quentin and I couldn't see [eye to eye].... I wanted to make that movie so badly, but I felt the only way was, it had to be a love story, not a vengeance story."
The lead role that Will Smith turned down eventually went to Jamie Foxx.
Take a look at The Hollywood Reporter's annual Actor Roundtable below. Also, check out a clip of the actor praising his wife in an emotional speech from the 2015 Black Girls Rock:
BET.com is your No. 1 source for Black celebrity news, photos, exclusive videos and all the latest in the world of hip hop and R&B music. 
(Photo: Theo Wargo/Getty Images)