Georgia Runoff Between Warnock, Walker Still Important Even After Democrats Keep Control Of Senate
The Democrats won a narrow victory in Nevada to retain the Senate.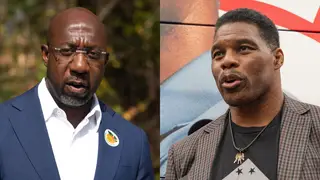 Democrats kept control of the U.S. Senate on Saturday night (Nov. 12) after Sen. Catherine Cortez Masto, a Nevada Democrat, narrowly defeated her Donald Trump-endorsed GOP rival Adam Laxalt.
That means the Democrats don't need incumbent Georgia Sen. Raphael Warnock to defeat Republican candidate Herschel Walker in the December runoff to maintain control of the upper chamber.
As CNN reported, it's still important to Democrats for Warnock to win that race, which would give Democrats a clear 51-49 majority in the Senate.
Looking to the 2024 election cycle, Democrats will defend at least 23 seats, compared to 10 for the Republicans. That means Democrats need as many seats as possible in their column before the next election.
If Warnock loses, Vice President Kamala Harris must continue to deliver tie breaking votes for Democrats in what would be an evenly split 50-50 Senate. But with a majority in place, Democrats would have a smoother process to deliver President Joe Biden's judicial and cabinet appointments, Atlanta station WXIA noted.
Democrats could also have the authority to conduct investigations and the ability to block legislation from the House if Republicans take control there.
There's also a lot at stake for Georgia Democrats.
"The losses on Tuesday in the statewide constitutional offices certainly were a blow to Democrats, and they would actually want to make the case that they are still competitive and demonstrate that not just by the single digit margins," political analyst Andra Gillespie told WXIA.
At the same time, Georgia Republicans want to recapture the seat that Warnock won in a stunning runoff election victory against the incumbent GOP Sen. Kelly Loeffler in the 2020 election cycle.
"This is a seat that was once held by Republicans, so Republicans have an incentive to try to recapture that seat," Gillespie said. "That makes it easier for them going into the next cycle in terms of trying to recapture control of the chamber in 2024."