Analysis: GOP Underperforms, Abrams Left Disappointed and Warnock, Walker Are Still Waiting
With no clear majority won on Election Night, both parties seek a route to power in Congress.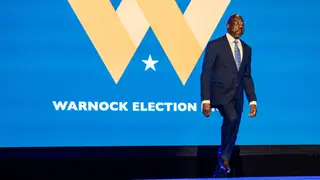 A midterm election night that had once been thought sure to bring in a "red wave" for Republicans only resulted in a red sputter. Democrats performed far better than expected and control of Congress has yet to be determined, with several races hanging in the balance that could still determine what kind of power each party has.

Most notably, the Georgia senate election will likely go to a runoff scheduled for Dec. 6, CBS News projects. Neither incumbent Sen. Raphael Warnock nor challenger former NFL star Herschel Walker was able to get more than 50 percent of votes in the state, and according to the election rules, there, without that magic number, a runoff is triggered.

But this happened amid a loss for Stacey Abrams in a rematch of the 2018 election in which she lost to Gov. Brian Kemp. That race was so close that it motivated her to become a popular voting rights advocate who, in turn, mobilized people to go to the polls and deliver Georgia for Joe Biden in the 2020 presidential election, which eventually led to him winning.

RELATED: Stacey Abrams Loses Second Attempt To Take Georgia Governor's Race


This time, however, Kemp took advantage of a GOP-controlled state legislature and, thanks to a controversial voting law that made significant changes to Georgia's voting system, which Abrams opposed in a failed lawsuit.
According to CBS News exit polls, Abrams had a heavy showing among Black voters. Ninety percent of Black people who went to the polls supported her. Split between genders, 93 percent of Black women and 84 percent of Black men voted for Abrams. So she did not lose any support from those groups from the 2018 race. But 76 percent of White men and 72 percent of White women polled voted for Kemp. Meaning the majority of the state's voters did not support her the way they did Biden. Neither Abrams nor Warnock had messages that were strong enough to convince a majority of the electorate to support them over the Republicans and deliver the election Tuesday night.
"We've seen what's possible when we stand up for our neighbors and protect each other," Abrams told her supporters in her concession speech early Wednesday morning (Nov. 9). "We've made sacrifices, we've pitched in, we've seen each others' fights as our own, and we've done things we never thought we could."

But with sound wins for the Republicans in Georgia including Kemp, and the Trump-backed Marjorie Taylor Greene in the House race over Democrat Marcus Flowers, and veteran congressman Sanford Bishop holding off GOP challenger Chris West, the contest between Warnock and Walker is now capturing much attention.
Although voters were willing to support Kemp for governor, Walker did not garner the same amount of backing. Walker, also backed by Trump, has a long controversy following him. Scandals in which at least two women claim that he coerced them into getting abortions, a son who spoke out against him, and any number of cringe-worthy gaffes, like his poor understanding of and bizarre remarks about climate change or ironically clinging to a no-exceptions position on abortion.
All of that equals an electorate willing to vote for Kemp over Abrams but was turned off by Walker and unwilling to give him the votes he needed to unseat Walker. Now both candidates are left with four more weeks to make their case, and control of the Senate could result.
The Nationwide Battlefield

Meanwhile, in Wisconsin, Lt. Gov. Mandela Barnes began the day after the election hoping for a path to defeating incumbent Sen. Ron Johnson. However, he wound up disappointed. CBS News called the race in favor of Johnson. It had been a toss up with the two candidates separated by less than a single percentage point Wednesday morning. Exit polls show Barnes supported by 89 percent of Black voters. But with Milwaukee County's returns continuing to come in along with absentee and overseas and military ballots, they were not enough to hold off a Republican push.

Democrat Cheri Beasley could not bring North Carolina in for the party, losing to Republican Ted Budd. Activist Gary Chambers, who began his campaign with an ad showing him smoking a blunt, could not convince Louisiana voters to support him over incumbent John Kennedy in the Senate. In fact, that was one of the GOP's most lopsided victories, 61.6 percent to 17.8 percent.
Democrat Charles Booker could not crack the Republican machine in Kentucky, losing to incumbent Sen. Rand Paul. In governor's races, including Alabama, Arkansas, and Iowa, Yolanda Flowers, Chris Jones, and Deidre DeJear each lost to stronger GOP candidates. In Arkansas, former Trump White House Press Secretary Sarah Huckabee Sanders becomes that state's first woman governor.
But there were a pair of bright spots for emerging Black candidates. In Maryland, Wes Moore defeated far-right opponent Dan Cox in the blue state, becoming its first Black governor. Moore, a businessman and philanthropist, is a first-time politician and has now won a significant strategic platform in the Democratic party, which has major future potential.

RELATED: Wes Moore Makes History As Maryland's First Black Governor

Also, Maxwell Frost, a 25-year-old Afro-Latino candidate, became the first Gen-Z politician elected to Congress. He beat opponent Calvin Wimbush in Florida's 10th District and will replace Val Demings, who challenged Marco Rubio in the Senate. Gun violence was a significant issue in the area because voters still have memories of the Parkland and Pulse nightclub shootings. Voters were willing to listen to a candidate who wanted to address that issue, which was not the most significant issue in many other races.

But that's where the good news ends for Democrats in Florida. Demings could not convince voters that she was the better candidate, and they sent Rubio back for a second term. A red state, Floridians supported Trump in the 2020 election with Democratic pockets in the Jacksonville, Orlando, and Tallahassee areas. But Miami-Dade was not convinced and supported Rubio.
That Republican backing also spilled over into support for incumbent Gov.Ron DeSantis in beating former Gov. Charlie Crist. Political pundits say he has the wind at his back for a possible presidential run in 2024.
While control of the House is yet to be determined, Democrats scored key wins such as Lucy McBath, Nikema Williams, and Hank Johnson in Georgia; Bonnie Watson Coleman and Donald Payne Jr. in New Jersey; in Ohio, Joyce Beatty, Shontel Brown, and Emilia Sykes; and in Pennsylvania Rep. Dwight Evans joins the victory party with Lt. Gov. John Fetterman and state Attorney General Josh Shapiro.
But the congressional and gubernatorial races were not the only ones on people's minds. In Los Angeles, the mayoral race between Rep. Karen Bass and billionaire Rick Caruso remains too close to call. Bass had been leading in the polls in the weeks leading up to the election, but Caruso has managed to gain some ground as the city still reels from a racism scandal in its city council.
In Washington D.C. it was an easier race for Democratic incumbent Muriel Bowser, who faced no real competition from Republican challenger Stacia Hall, cruising to a third term in office. In Little Rock, Arkansas, a mayoral race scarcely discussed on the national stage resulted in reelection for incumbent Frank Scott Jr., despite intense criticism over the city's high violent crime rate. Independent candidate Steve Landers and much of the right heavily challenged Scott, but voters decided not to switch.
Editor's Note: This story has been updated.