Nancy Pelosi Defends Maxine Waters After Criticism Over Comments Made To Protesters
The House Speaker said her colleague should not apologize, although her comments briefly figured into the Derek Chauvin trial.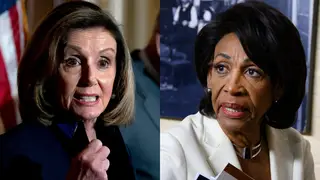 House Speaker Nancy Pelosi said that her colleague, California Rep. Maxine Waters, should not apologize for her comments prior to the closing arguments in the Derek Chauvin trial. Pelosi also doesn't believe that her words would not incite any violence.
"Maxine talked about confrontation in the manner of the civil rights movement," Pelosi said, according to The Hill. "I myself think we should take our lead from the George Floyd family. They've handled this with great dignity and no ambiguity or lack of — misinterpretation by the other side. No, I don't think she should apologize."
Waters was in Brooklyn Park, Minn., on Saturday (April 17), speaking to demonstrators protesting the police shooting death of Daunte Wright, who was killed during an April 11 traffic stop. She also commented on the Chauvin trial and if there were an acquittal: "We got to stay on the street. And we've got to get more active, we've got to get more confrontational. We've got to make sure that they know that we mean business."
Defense attorney Eric Nelson brought up her comments; he motioned to Judge Peter Cahill for a mistrial, and controversy instantly followed. From the bench, Cahill admonished public officials who make comments about the trial proceedings.
"I wish elected officials would stop talking about this case, especially in a manner that is disrespectful to the rule of law and to the judicial branch and our function," he said. But he denied Nelson's motions, noting that "beyond the articles that we're talking specifically about the facts of this case, a congresswoman's opinion really doesn't matter a whole lot."
RELATED: Derek Chauvin's Defense Calls For A Mistrial Due To Maxine Waters' Comments
He also said that although the wouldn't be a mistrial, the remarks could be used for an appeal.
"I'll give you that Congresswoman Waters may have given you something on appeal that may result in this whole trial being overturned," he said.
Republicans in Congress used the occasion to blast Waters' remarks, saying she was inciting violence and calling it an example of a double standard.
"Once again, this weekend, we saw a member of the majority openly call for more confrontation in a Minneapolis suburb," said Michigan Republican Lisa McClain on the House floor. "That very night, there was a drive-by shooting in that community where police and the National Guardsmen were targeted. 
"If this were reversed, if this was said by a Republican," she said, "you know that the majority in this chamber would move to strip that representative of their committees and possibly to expel them from Congress."
But Pelosi rejected that and criticized McClain instead. 
"That woman on the floor should be apologizing for what she said," Pelosi said.