Ashanti Goes Off On A Fan: 'I'm Not A F**king Stripper!'
Yikes.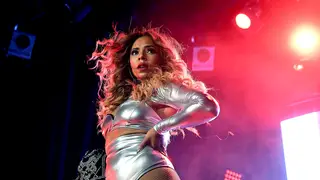 With the bold courage that some fans are taking on during concerts nowadays, it might be time to start handing out concert conduct handbooks with tickets — especially for the front row attendees.
Otherwise, leave it to performers like R&B starlet and Murder Inc. leading lady Ashanti to give their own concert behavior memos in whatever manner they see fit, which is exactly what the Braveheart songstress did for fans showering her with money during a recent show.
During her Hawaii performance, Ashanti crooned out some of her throwback hits while delivering some sexy choreography for the fans.
But her sultry moves are not to be confused with an exotic dancing performance, and the concertgoers sprinkling the stage with dollar bills needed to be reminded of that.The video of the exchange shows a few people in the front row with fistfuls of cash occasionally tossing up the money. She clearly had enough and paused the show to address one fan who apparently thought he was in a strip club.
"Yo, I'm gonna need you to stop throwing that money," she said. "I'm not a f**king stripper, OK?"
According to New York Daily News, however, the venue's owner Dyamin Thomas wasn't fond of her reaction to the fan considering the environment he claims she created for the crowd.
"WAIT Ashanti ain't that you in your background video throwing money?," Thomas wrote in an Instagram post. "And aren't you giving a lap dance? Lmfao... she ain't say nothing to me, but you gonna pick on the small white boy lol my Dj?"
There is a time and place for everything, folks.
See what not to do at an Ashanti concert and what the venue's owner had to say about her crowd control effort below.