JT Claims Lil Yachty Cheated On Her While She Was In Jail
Things got a little heated after Yachty entered the chat.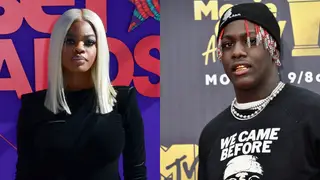 With the City Girls' return spurred by JT's release from behind bars, it looks like a project is about to drop any minute.
But for now, the Florida duo has been enjoying some quality downtime while they are in between releases. While Yung Miami has been spending time with her newborn baby girl, Summer Miami, JT has been in the studio cooking up some new music. During a recent livestream with her fans from what appeared to be a studio, the rapper was speaking to Love & Hip-Hop: Atlanta star Tommie Lee about her life behind bars when Lil Yatchy's name came up. 

As they were talking, Lee big-upped how Lil Boat "stayed down" for the rapper as she finished her one-year prison sentence. "Chile, barely. Yachty is a manipulator," JT began before she dished to Lee that her Quality Control label mate was preoccupied with other women while she was doing time for credit card fraud. 

ICYMI: Yachty co-penned the City Girls' breakout hit, "Act Up," alongside JT, and the two are often in the booth together. While there's been dating rumors between the two, their relationship status was never officially confirmed.

Lee tried to come to Yachty's defense before the Girl Code rapper told Lee that Yachty did not write her a single letter or email and cheated on her while she was locked up. 

"He had this whole b**tch at his grandmother's funeral and everything," JT said. 

'It's too much. He stays in the trick zone. He thinks he's smarter than a b**tch'

JT then called the Lil Boat maestro into the room "to come talk about it." Sidestepping the allegations, Yachty said he didn't "know what the f**k" JT was talking about when she claimed he told her that a girl came to see him when he was home for his grandmother's funeral. 

'We business partners,' Yachty clarified to Lee. 'We are working on music'

From there, things got a little heated as Yachty and Lee, who was now #TeamJT, argued back and forth, trading a few verbal jabs. The Atlanta native warned Lee to stop "playing with [his] grandma," and called "cap" on the whole conversation. The video clips obtained by The Shade Room ended shortly after.

Lil Yachty hasn't publicly commented on the matter yet either, but Quality Control might want to sit JT and Lil Yachty down to work out things out in private.

Listen to the conversation below.