Colin Kaepernick Memorabilia Will Be Featured at the Smithsonian's National Museum of African American History and Culture
The move was prompted by the quarterback's woke kneeling protest last season.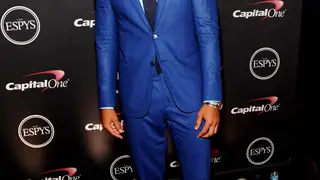 Colin Kaepernick continues to wait for an NFL franchise to give him a shot in the aftermath of kneeling during the national anthem last season as a protest against racism and police brutality.
That being said, at least one prominent organization is recognizing the woke quarterback's excellence.
Respected sociologist Harry Edwards helped the museum with a game changers exhibit, which illustrates the impact of athletes, and donated Kaepernick items to be displayed prominently within it.
The idea hit Edwards late last year upon seeing the former San Francisco 49ers QB make his stance.
"I said, 'Don't wait 50 years to try to get some memorabilia and so forth on Kaepernick,'" Edwards told USA TODAY about his message to the museum's curators. "'Let me give you a game jersey, some shoes, a picture. And it should be put right there alongside Muhammad Ali. He's this generation's Ali.'"
That's quite the compliment for the 29-year-old, considering Ali's impact both in the ring as a legendary boxer and also out of it with his social activism.
"Ali created a conversation," Edwards continued telling USA TODAY. "The conversation was going on at lower frequencies, but when the world champion steps forward and says, 'No Viet Cong ever called me a [n****r], and we have some issue we need to deal with here, not over there in a war that make no sense,' it moved the discussion to another level. The same thing with Kaepernick. He sparked a national conversation about race."
"If they are stupid enough to make a martyr out of Kaep," Edwards said, "it's going to get even more interesting."
BET Sports News — Get the latest news and information about African-Americans in sports, including weekly recaps, celebrity news and photos of your favorite Black athletes.