Fans Criticize Kanye West For Selling Yeezy Gap Collection Out Of Black Oversized Garbage Bags
The Yeezy Gap engineered by Balenciaga collection debuted in select Gap stores last month.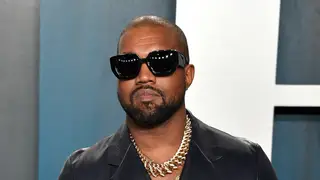 Kanye West fans aren't too happy about his latest Yeezy Gap release. 
A viral tweet taken by a shopper in NYC that showed West's Yeezy Gap collection haphazardly spilling out of black bags has sparked a backlash from some fans.
"This is how they are selling Yeezy GAP," the tweet said. "The sales associate said Ye got mad when he saw they had it on hangers and this is how he wanted it. They won't help you find ur size too, you just have to just dig through everything."
Although some fans weren't happy about the unconventional display, a few Twitter followers loved it. "The absolute minimum amount of labor for gap staff this is the first cool thing Kanye has done since "my beautiful dark, twisted fantasy," one user wrote.
In a recent Instagram post, West shared a caption saying that children and the homeless are "the biggest inspiration for all design," which is reportedly why his latest collection is sold out of oversized black Frakta bags.