DMX's Son Tributes Late Father With Piano Cover Of 'Ruff Ryders Anthem'
The hip-hop legend's fiancée posted the clip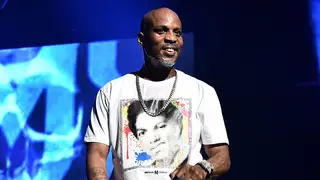 DMX's legacy will live on through the many fans who adored him throughout his life, including his son, Exodus.
In a video clip posted to Instagram by the legendary Yonkers rapper's fianceé Desiree Lindstrom on Thursday (June 8), the six-year-old plays the piano to the tune of "Ruff Ryders' Anthem."
"Today, I'm gonna play a 'Ruff Ryders' Anthem' and this is how it goes," he said before mimicking the keys of perhaps his father's biggest hit.
"I love you, daddy," Exodus says in closing the video. Lindstrom captioned the post: "Y'all should of known it was coming … A small tribute to his daddy! #ForeverX @Dmx @therealswizzz."
Last month marked the 25th anniversary of the multi-platinum track and DMX's legendary debut album It's Dark and Hell Is Hot. The rapper tragically passed away in April of 2021 from a heart attack at White Plains Hospital in New York.
Check out the Instagram post below.