Swizz Beatz Reveals DMX Joined 'Ruff Ryders' Anthem' Following Lost Bet
The legendary producer says X wasn't a huge fan of the hit's beat in the beginning.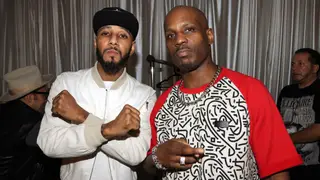 Swizz Beatz recently did some reminiscing about hip-hop history.
Sitting down with SiriusXM's Hip-Hop Nation over the weekend, the legendary producer confirmed the notion that DMX wasn't a huge fan of the "Ruff Ryders Anthem" beat to begin with.
"So I was in Atlanta in school and then, um, they got the project to where it was at and then I came in last minute with 'Stop Drop,'" Swizz told host Gray Rizzy of the song, the beat of which he made. "X lost a bet or I wouldn't even been on that album, you know what I'm saying? But he didn't lose the bet because that song ended up changing all of our lives. So he technically won the bet for my Uncle D and you know that just changed all of our lives. So it was just enough to do what it needed to do.
"You know, like that song commercially went bigger than everything at the time. And then we came immediately with our sound next after that and Dame Grease and PK was a part of that as well," he continued. "I wanna get [them] they props cuz they, people they feel that they don't get they props. I'm in a comfortable space to give people they props. At those particular times we was definitely bumping the little heads and things like that, but we all was a part of making history at the end of the day.
Swizz concluded: "It was all musical stuff. Wasn't no street vibes like that, you know what I'm saying? And so I was young and hungry. They was young and hungry. They had to get it. I had to get it. So that's like when you look at the whole thing, it was just really based on that, you know what I'm saying?"
The third single from DMX's breakout debut album It's Dark and Hell Is Hot, "Ruff Ryders Anthem" peaked at number 93 on the Billboard Hot 100 chart and then did so again at number 18 in April 2021 following the Yonkers rapper's sudden death. The album turns 25 years old on May 19.
Watch the full Swizz Beatz interview segment below.