Here's Why Tyga Reportedly Moved Out of Kylie's Mansion
Another change in the on-again, off-again couple's relationship.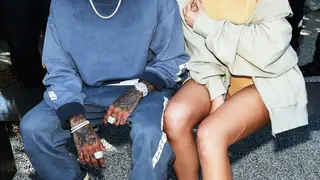 It looks Kylie Jenner is ready to move on from Tyga once and for all — and that means moving him out of her Calabasas mansion.
The on-again, off-again couple are slowing things down these days and spending more time apart than usual. While they're not quite ready to declare a breakup at this point, all signs seem to be pointing that way. So, if they're technically still together (as sources say), why did Kylie give him the boot and why is Tyga more than happy to start paying his own rent?
"Tyga moved out," a source revealed to Us Weekly, because he "feels he's been belittled on the show [Keeping Up With the Kardashians]."
The insider continues, "Tyga does really make Kylie happy, and when they break up it makes Kylie super sad. He's her first big love and they still speak every day." Another source adds, "They're not broken up. They're just not spending as much time together." 
Apparently, Tyga has new digs nearly 30 miles away from Kylie in the Hollywood Hills. That's sure to put extra strain on what's left of their relationship.
See how far Kylie went to support her man with BET Breaks, above.