Kirk Franklin Addresses Rumor That He And Plies Are The Same Person
Do you see the resemblance?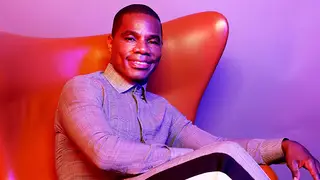 Gospel artist Kirk Franklin and rapper Plies are joining forces to help victims of Hurricane Ian. During a sit-down with Angela Yee, Franklin addressed the hilarious online rumor that the two are the same person.
With Yee by his side, Franklin called Plies on FaceTime and said, "I am not he, and he is not I."
Franklin also revealed that the two are going to work together to help with the aftermath of Hurricane Ian.
"I've been trying to reach out to you for the longest. Listen man, we're going to do something for Florida, right? … So me and my twin, we're coming to Florida and we gon' help the people."
He added with a laugh, "Help's coming from the Franklin boys." Hurricane Ian has caused major damage to the Florida gulf coast and many communities are in the process of rebuilding.
See the video below, which Franklin captioned the video with, "​​Time to clear the rumors."