Derek Chauvin Sentenced On Federal Charges Over George Floyd Murder
The former Minneapolis police officer faces 21 years in prison.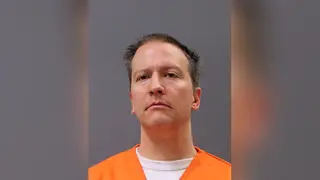 Former Minneapolis police officer Derek Chauvin has been sentenced for violating George Floyd's civil rights during a 2020 arrest, which are federal charges.
According to NBC News, U.S. District Judge Paul Magnuson sentenced Chauvin to 21 years in prison, with credit time served, making the sentence 20 years and five months.
During today's sentencing hearing, Philonise Floyd, George Floyd's brother, asked for the maximum sentence of 25 years, saying, "My brother was murdered in broad daylight with a knee to his neck for nine minutes. He will never be able to walk her down the aisle, take her to a daddy daughter dance."
He also added, "George's life matters."
In April of 2021, a state jury convicted Chauvin on all counts of murder and manslaughter, and he was sentenced to more than 22 years in prison. Chauvin later pleaded guilty in December 2021 in a federal civil rights case to violating Floyd's civil rights.
Chauvin, along with three other former Minneapolis officers, Tou Thao, Thomas Lane, and J. Alexander Kueng, was indicted by a federal grand jury, accusing them of depriving Floyd, 46, of his rights while exercising the authority of a government agency. Floyd died on May 25, 2020 when, in an attempt to arrest him, he was pinned to the ground under Chauvin's knee for nearly nine minutes.