Is Disease Preventing Us From Getting the Mental Health Care We Need?
Blacks with the "sugar" are least likely to get care for depression.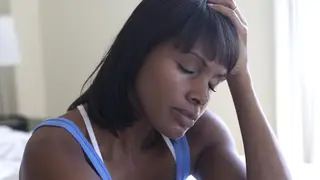 Those who do seek treatment for depression often receive medications from a primary care provider, the authors said, and are less likely to have care from specialized mental health providers. Consequently, those patients are less likely to receive mental health treatment recommended by American Psychiatric Association (APA) guidelines. Primary care is rarely adequately resourced to provide long-term mental health treatment.
"People who have depression are more likely to develop type 2 diabetes and vice versa," said lead study author Amma A. Agyemang, M.S., M.P.H. of Virginia Commonwealth University's psychology department. "We found depression treatment below par for minorities, even those with co-morbid diabetes or hypertension. Having a mental illness and a medical illness makes both more complex to treat, and the rate of obtaining depression treatment remains low for this population."
The research team utilized cross-sectional data obtained between 2001 and 2003 from the National Survey of American Life. They were particularly interested in two opposing hypotheses: exposure or crowd-out effects. The former occurs when a person has both a mental and medical illness, said Agyemang. A provider helps manage the medical illness, and will be more likely to inquire about mental health. In contrast, crowd-out effects occur when a medical illness like type 2 diabetes demands more focus, resulting in inadequate mental health care.
Overall, they found that only 19.2 percent of Black Americans with major depression alone, 7.8 percent with depression plus type 2 diabetes and 22.3 percent with depression plus hypertension reported receiving psychotherapy or antidepressant treatment in accordance with APA guidelines. 
BET Health News - We go beyond the music and entertainment world to bring you important medical information and health-related tips of special relevance to Blacks in the U.S. and around the world. Click here to subscribe to our newsletter.  
 (Photo: Bruce Laurance/Getty Images)