Michael Sam Released by St. Louis Rams
Defensive end doesn't survive final cut to make NFL roster.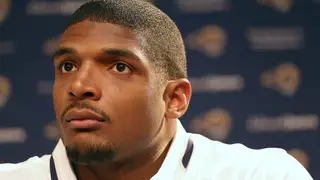 Michael Sam came close, but he didn't make the cut. Despite an impressive pre-season performance, the St. Louis Rams released the defensive end on Saturday, ESPN reports.
St. Louis had until 4 p.m. today to reduce their final roster to 53 players and Sam was one of the casualties. The former SEC Defensive Player of the Year will now hit the waiver wire where he can be signed by one of the other 31 NFL teams.
After being drafted by the Rams in the seventh round of the NFL Draft in May, Sam played well throughout the pre-season. He registered 11 tackles and three sacks. Many experts thought he had a very good chance to be the first openly gay player to make an NFL regular season roster.
Sam even received a promising endorsement from his head coach, Jeff Fisher, following a six-tackle performance in his final pre-season game on Friday.
"I believe he can play in this league," Fisher said.

If no other team picks Sam off waivers the Rams would like to bring him back to their 10-man practice squad.
BET Sports News - Get the latest news and information about African-Americans in sports including weekly recaps, celebrity news and photos of your favorite Black athletes. Click here to subscribe to our newsletter.