Tom Hanks' Son Chet Films Bizarre Video Speaking In Patois At The Golden Globes
And the most baffling red carpet moment goes to…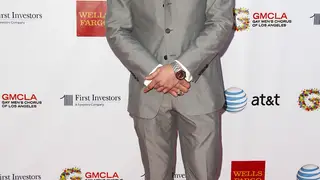 Tom Hanks had a beautiful evening with his family at the Golden Globe Awards last night, where he was honored with the Cecil B. DeMille Lifetime Achievement Award. All five of his kids were in attendance, and like in any family, one turned out to draw a little unwanted attention. 
The Hollywood icon's son, Chet Hanks, also known as rapper Chet Haze on his mixtapes and MySpace profile, has become the butt of many online jokes for speaking with a Caribbean accent on the red carpet of the Golden Globes.
The 29-year-old aspiring rapper-turned-actor showed off his patois as he strolled the red carpet on Sunday night (January 5) in support of his father.
Many wondered why he was speaking with the accent, and others were quick to point out that Chet has been banging on the doors of Black culture for some time now.

In 2015, Chet Hanks defended his use of the N-word, so this isn't the first time he's stepped in hot water. According to TMZ, "Chet Haze" said, "Hip-hop isn't about race, it's about the culture you identify with."

The younger Hanks has appeared on several episodes of Empire and also reportedly dated Love & Hip Hop star Hazel-E.