Say What?! Tyra Banks Makes A Shocking Confession About Her Iconic 'We Were Rooting For You' Moment On 'ANTM'
She says she has one major regret.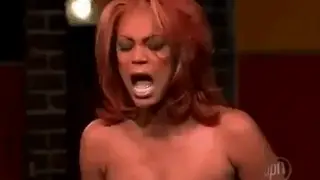 Tyra Banks introduced one of the most priceless and iconic reality TV moments of all time in 2005, when she delivered the infamous, "I was rooting for you, we were all rooting for you!" line heard around the world on her monstrously successful show America's Next Top Model.
Tiffany Richardson, who was on the receiving end of Banks's outburst, spoke with BuzzFeed earlier this year about how the supermodel's words affected her after so many years. Now the mogul herself is speaking out, sharing her thoughts on the emotional exchange, 12 years later.

Get more Tyra Banks news with BET Breaks, above.

In a recent interview with BuzzFeed, Banks explained that she understands how both viewers and Richardson may have thought her approach was a bit heavy-handed.
"A lot of the times it's easy to go either way. It's easier to say, 'Oh, my God, that was awful. I'm a victim.' Or it's the other way around, 'I'm awful,' and you kinda blame yourself," she said. "I felt like [Richardson] took ownership of some of the things she could've done better, but at the same time said, 'That was some crazy s**t.'"
She stressed, though, that while her reaction may have seemed melodramatic through the TV, she and the rest of the ANTM team genuinely were on Richardson's side.
"It was such an emotional, visceral moment for me," she said. "I had so much love for this girl."
She didn't stop there. While addressing Richardson's claims that she was unfairly and harshly criticized on the show, Banks explained that in the real world of modeling, things are actually much worse.
"The things I have heard — it makes you insecure about things that you weren't even insecure about," she said. "A lot of girls see it on TV, but it's not the same as when it's happening to you. So Top Model is nothing new. You've seen it for ages and you see these girls crying and you're like, 'I'm gonna go on there and I'm gonna be amazing.' And then you get this feedback that maybe you're not perfect and these are the areas that you need to improve being said to you in so many different ways from different judges and that can hurt."
So, in hindsight, would Banks have taken a different approach to the situation?
"Oh, my God, totally. I wouldn't have done it," she said. "Actually, maybe I wouldn't have aired it."
Take a walk down memory lane and revisit the iconic scene, below: