Judge Hatchett Speaks on the Devastating Death of Her Daughter-In-Law From a C-Section
A lawsuit has been filed against doctors who operated on Kyira Dixon Johnson.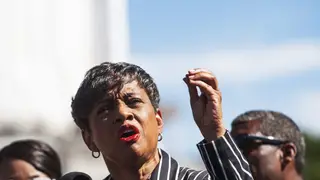 Well known TV judge Glenda Hatchett detailed the devastating death of her daughter-in-law, who passed away in April from complications of cesarean section. On April 12, 2016, Hatchett's son, Charles S. Johnson IV, and his wife, Kyira Dixon Johnson, went to Cedars-Sinai Medical Center in Los Angeles for the scheduled C-section.
On Wednesday, Hatchett and her son delivered remarks outside the hospital and revealed Johnson filed a wrongful death lawsuit against the doctors in charge of caring for Kyira, reported DailyMail.com.
According to the autopsy, Kyira's cause of death was "due to hemorrhagic shock due to acute hemoperitoneum." The lawsuit claimed the doctors did not properly respond to her symptoms and did not treat her bleeding in a timely matter.  
"The tragic death of this magnificent young woman who had become my daughter was absolutely so unnecessary," Judge Hatchett said outside the hospital. "The complaint speaks for itself and I trust this lawsuit will spare other families the enormous pain that we are suffering."
Kyira gave birth to her son Langston around 2:33 p.m. and was taken to the recovery room around 3 p.m. Three hours later, nurses allegedly first noticed blood in her urine catheter and informed doctors of the situation, the lawsuit claimed.
Although a CT scan was ordered to view her pelvis and abdomen, according to the lawsuit, the scans were never performed.
A little before midnight, doctors allegedly requested Kyira go for surgery so they could identify the source of her bleeding. During her surgery, doctors found three liters of blood in her abdomen, according to court documents.
At 2:22 a.m., on April 13, Kyira was pronounced dead.
When Johnson filed the lawsuit, he included the couple's two sons, Langston and Charles V, as plaintiffs.