A Black Woman Built Community Through Black Culture Crossword Puzzles
Juliana Pache, the creator of Black Crossword, discusses what motivated her to create the new online game.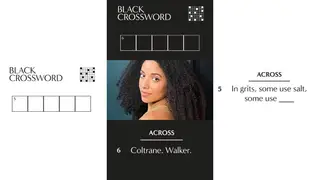 Someone looking to fill the void of the lack of representation in crossword puzzle culture is New York-based entrepreneur Juliana Pache. With a background that extends from jewelry making to serving as social media director with popular outlets including The Fader, Rolling Stone and Vice, she was encouraged to create Black Crossword after getting stuck on a New York Times mini puzzle.
"I was like 'I don't know, what this is'," explained Pache. "I just thought to myself, I wonder if there was a Black version of this or something that just has prompts and clues that Black people would know."
Over the span of three or four months last year, Pache bought the domain for Black Crossword and related domains, submitted a trademark application, and began working on the website and building social media accounts on various platforms. Then it was making the crossword puzzles themselves which can be a difficult undertaking.
"It's hard," Pache described who has begun to grow her word library to 30 pages already. "It's a real skill and there's an art to it. There are best practices just like anything else. I have not made a standard-size puzzle ever as I've only made mini-puzzles. But people who make standard-size puzzles every day are magicians."
Launched on January 23, after a week-long beta, Pache is satisfied with the reception its received. The first puzzle released on launch day earned around 5,000 plays on the first day. Having crossword puzzles that reference various aspects of the diaspora is the hook, Pache enjoys the community she's creating.
"I think the community is pretty broad," she said. "I think it's just people who are interested in word games or people wanting to try it out as a little brain teaser for a serotonin boost in the middle of the day while catering to people of the Black diaspora."
Pache has plenty of future plans for Black Crossword such as releasing standard-size crossword puzzles later this year alongside more challenging subscription-based weekly puzzles. Eventually, she wants to launch various merch and even a book of crossword puzzles.