Nick Gordon's Girlfriend Breaks Her Silence on Violent Fight
She compares herself to Bobbi Kristina Brown.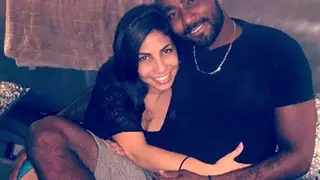 Bobbi Kristina Brown's ex-boyfriend, Nick Gordon, has been charged with domestic violence for allegedly ruthlessly beating his new girlfriend, Laura Leal. The incident went down over the weekend, and now Laura is speaking out about what happened, saying she's lucky to be alive. 
In an interview with the Daily Mail, 26-year-old Leal said that Gordon punched her head so hard she thought she might be dead. She compares herself to what Bobbi Kristina may have experienced before her tragic passing.
In the interview, Leal explained the similarities between her and Bobbi Kristina's experience. "I've been reading the reports about Bobbi Kristina and I'm physically shaking," she said. "I read about her being isolated, her family not knowing where she was, the manipulation, the bullying — it's the exact same thing... That could have been me. Only the grace of God saved me."
Leal went on to say that as she was falling in love with Gordon, who had claimed to beat his drug addiction, the two never discussed his former fiancée. "In all sincerity we never talked about Bobbi Kristina. I was protective of his feelings and what he had been through."
As the two got serious however, so too did Gordon's abuse of drugs and alcohol, and physical abuse of Leal. "It started with a push and a slap, it would happen at least once a week," she recounted. "I blamed myself. I thought it was my problem and that I had to work harder at the relationship to make it work." She added, "I thought he loved me but how can you love someone when you put them through this hell? It's like a double personality in one person. He's psychotic." 
The most recent attack took place last Friday night, and Leal explained that she thought she might be dying. "He literally sat on top of me on the bed punching my head with his big ass body on top of me. I was punched so hard that I was seeing colors and a bright flashing light... I thought I was going to go blind and wondered whether I was ever going to be able to see again. I thought to myself, am I dying?" In an act of desperation, Leal was able to throw a large candle at Gordon's face and broke his nose. She then ran to his mother's room, who agreed to driver her home. "She is a great woman. She saved my life," Leal explained.
Gordon appeared in court on Sunday where his bail was set at $15,000 for a kidnapping charge, and an additional $500 for the battery charge.
See how Gordon was ordered to pay millions to Bobbi Kristina's estate with BET Breaks above.