Challenges Remain for Little Rock, Amid Ruling
Jesse Washington writes that challenges still remain for Little Rock, Arkansas, school districts and questions whether all children now receive a high-quality education.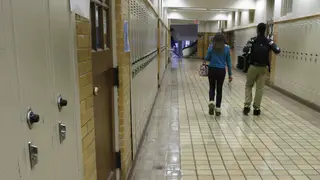 On Monday, a federal judge ruled to end Arkansas' payments to Little Rock-area school districts in four years. Since 1989, the state allocated more than $1 billion in funds to districts to bring racial balance to its schools.
Little Rock and North Little Rock schools have been declared essentially desegregated, while Pulaski County schools hope to be desegregated in three years. However, racial and economic disparities still remain a challenge for the school systems.
Jesse Washington, national writer for the Associated Press, questions whether children in Little Rock all have an opportunity to receive a high-quality education, decades after segregation prevented Black students from entering schools of their choice in the city.

Jesse Washington writes:
Data from the state Education Department that tracked students between their high school years and their first year of college showed that students from the area's private high schools were better prepared for college and scored higher on the ACT college entrance exam. Using data from 2011, the most recent year available, all but one private school had at least a quarter of its students meet all of the ACT's pre-college benchmarks.
No public school in the county reached that mark — not even Central — and the schools that had the highest percentage of Black students fared worst on the test, with less than 6 percent of its graduates ready for college.
"The problem is not solved yet," said John Kirk, chairman of the history department at the University of Arkansas at Little Rock, who has studied the history of desegregation in the city.

Read full story here.
BET National News - Keep up to date with breaking news stories from around the nation, including headlines from the hip hop and entertainment world. Click here to subscribe to our newsletter. 
Follow Natelege Whaley on Twitter: @Natelege.

(Photo: AP Photo/Danny Johnston)