Brandy's 'Never Say Never' Was A Semi-Confessional Executed To Perfection
The legendary singer's sophomore album was released on June 9, 25 years ago.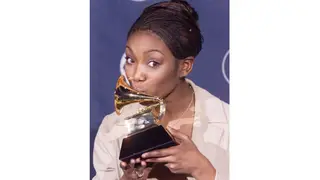 At 19, Brandy began recording her sophomore album Never Say Never, in the fall of 1997. And while there was anticipation for the project, considering the notoriety she had gained from her self-titled debut a few years earlier, this one was where she had officially arrived.
Released on June 9, 1998, the LP hit the trifecta: It was extremely significant at the time it dropped, it established what a high-caliber R&B album should sound like moving forward, and is looked back at as inspirational material for a plethora of singers that followed in Ms. Norwood's footsteps. The album sonically was quite a departure from her 1994 debut, and that was in large part due to Atlantic linking her with Rodney "Darkchild" Jerkins, a then-budding producer, and songwriting team consisting of brother Fred Jerkins III and LaShawn Daniels.
Brandy was commercially successful and showcased the then-up-and-coming singer's versatile alto voice through songs like "Baby" and "I Wanna Be Down." Still, it didn't quite rise to its successor's impact and critical reception. Never Say Never allowed Brandy and Jenkins to bring the best out of each other as she was encouraged by the producer to provide her vision and lend her thoughts to the record-making process, which created an overarching authenticity to the album as many of the song's themes came from Brandy's own experiences. It also made the LP very intimate, similar to many of its contemporaries at the time.
Perhaps one of the peak elements of the adventurous Never Say Never is that it catches one's attention right away. Following the intro, the formidable "Angel In Disguise" starts things off strong, featuring background vocals from R&B mainstay Joe and relaying the story of Mrs. Norwood's involvement in an emotional relationship and its back-and-forth dynamic.
Dropped a month before the album's official release, the following track and lead single, "The Boy Is Mine," a duet with Monica, is one of Brandy's biggest hits of her career. It was a perceivably awkward pairing at the time, considering there were rumors that the two weren't on good terms. The slick back-and-forth lyrical split between Brandy and Monica had them trading corrosive barbs over the man they were both after. It also doubled as the lead single and title for Monica's sophomore LP that was released just two months later.
"The Boy Is Mine" spent 13 weeks at the top of the Billboard Hot 100 chart and earned a Grammy Award for Best R&B Performance by a Duo or Group. It even inspired hip-hop spinoffs as Mobb Deep co-oped the pattern of the single's hook for the duo's Nas-collaborative single "It's Mine" in 1999.
Never Say Never featured other songs demonstrating Brandy's knack for being way ahead of her years lyrically. "Almost Doesn't Count" is a perfect example of the ultimate confidence she relayed through the heartbreak she had gone through. For her, it was about getting it right in a relationship and having the wisdom to move on when things don't fit right. "Learn the Hard Way" also employs this by informing an ex-lover it's all over after being repeatedly done wrong by him. At the same time, "Have You Ever" brilliantly plays on the themes of trying to find love after relationship failure, which she experiences time-and-time again on the album.
Never Say Never was very contemporary sonically, often featuring digitalized mid-tempo instrumentals that accompanied her soulful nature. The Black pop melodies mixed well with the rhythmic blend of more frenetic songs like "Happy" and slower ballads like "Learn the Hard Way." Commercially, the LP debuted at No. 3 on the Billboard 200, eventually earning a 4x platinum certification by the Recording Industry Association of America (RIAA). It was also nominated for four Grammys, including Record of the Year and Best R&B Album.
Looking back 25 years later, Never Say Never took Brandy's musical career to new heights as her acting endeavors started to pick up heavily. Its maturity and vitality, along with brilliant songwriting and accompanying production, was ahead of its time and continues to be a career staple for her. It's a confessional that was relatable to fans upon its release and to many now, often being the inspiration for many an Instagram caption. Not bad for a 19-year-old woman looking to meet the quality of her previous work and set the standard moving forward.