Update: ESPN Removes Commentator From Assignments After Comparing Venus Williams to a Gorilla
People were expecting Doug Adler to be fired.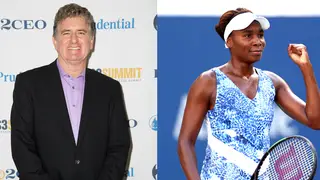 Update: In a statement to BET.com on Thursday, ESPN stated that they have relieved commentator Doug Adler of his duties for the remainder of the Australian Open after he compared Venus Williams to a "gorilla" during tournament action earlier this week.
"During an Australian Open stream on ESPN3, Doug Adler should have been more careful in his word selection," an ESPN rep said in an email to BET. "He apologized and we have removed him from his remaining assignments [for the Australian Open]."
Is it enough of a punishment?
Earlier in the day, Twitter was asking the company to terminate Adler after he said "you see Venus move in and put the gorilla effect on" during her second-round match Tuesday.
______________________________________________________________
Previously: People are calling for an ESPN commentator to be fired ASAP after disgustingly comparing Venus Williams to a "gorilla" during her Australian Open match earlier this week.
En route to Williams's 6-3, 6-2 victory over Stefanie Voegele on Tuesday, ESPN's Doug Adler attempted to describe the pressure that Venus was putting on her second-round opponent. That's when he made the racist statement.
"[Voegele] misses a first serve and Venus is all over her," Adler said. "You see Venus move in and put the gorilla effect on. Charging."
Absolutely disgusting and everyone from tennis writers to fans let Adler know about it, additionally calling for the Worldwide Leader in Sports to take swift action.
Adler, a former tennis player, reportedly apologized on-air yesterday.
But people aren't accepting.
BET.com reached out to ESPN on Thursday morning over Adler's comments, but haven't received a response as of press time.
BET Sports News — Get the latest news and information about African-Americans in sports, including weekly recaps, celebrity news and photos of your favorite Black athletes.