Boston Stands Strong One Year After Marathon Bombing
Thousands pay tribute to the victims of the tragic event.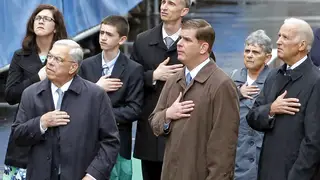 On the one-year anniversary of the Boston Marathon bombing, a ceremony was held in Boston's Hynes Convention Center to honor those killed and injured during the attack. Yesterday (April 15), Vice President Joe Biden joined city officials, bombing victims and their families to celebrate the triumphant spirit of Boston.
The emotional tribute included speeches from survivors and politicians as well as musical performances from the Boston Children's Choir and the legendary orchestra the Boston Pops. A later ceremony at Copley Square included a flag raising at the finish line and a moment of silence. At 2:50 p.m., the moment the bomb went off last year, the Old South Church's bells tolled for the victims just down the street from where the first blast occurred.
Three civilians and one Massachusetts Institute of Technology police officer were killed April 15, 2013, when a bomb went off near the finish line of the famous Boston Marathon. Lu Lingzi, Krystle Campbell, Sean Collier and 8-year-old Martin Richard lost their lives and countless others were injured or traumatized. The entire country united in support of Boston, organized online by the hashtag #BostonStrong.
Rev. Liz Walker of Roxbury Presbyterian Church spoke first, focusing on the city's ability to rise above the adversity it faced last year. "There is no way to walk to Boylston Street without being reminded of the evil spilling of precious blood, the hateful strike on a world treasure," Walker said. "But we are also reminded of the amazing capacity of the human spirit to rise in heroism, compassion and sacrifice."
Boston Athletic Association executive director Tom Grilk made sure that first responders, medical professionals, marathon volunteers and elected official were honored with a standing ovation during his speech. Former mayor Thomas Menino raised spirits with jokes about his strong accent. Boston residents will always remember Menino for leaving the hospital while recovering from leg surgery to aid in relief efforts on the day of the attack.
Vice President Joe Biden was a guest of honor who made the citizens of Boston feel truly dignified with his reverential speech. "I've never, never, never witnessed a tribute like I've heard today," Biden said. "Jill and I are honored to be asked back. Let me say to those survivors, my God, you have survived and soared. ... I mean it sincerely, just to hear each of you speak, you are truly inspiring. I've never heard anything so beautiful as what all of you just said." Biden closed the book on a difficult day in American history by honoring the city's strength. "You are the face of America's resolve," said Biden to Boston's resilient citizens.

BET Sports News - Get the latest news and information about African-Americans in sports including weekly recaps, celebrity news and photos of your favorite Black athletes. Click here to subscribe to our newsletter. 
(Photo: Elise Amendola/AP Photo)