Turn Up! D-Nice Reflects On The Two-Year Anniversary Of Club Quarantine And Why His Upcoming Las Vegas Residency Is About To Be Lit
In an interview with BET.com, the famed DJ also reveals his absolute favorite moment from Club Quarantine. Hint…it involves Michelle Obama.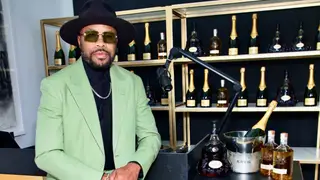 There are just a few particularly positive moments that came out of being stuck at home during the pandemic and one of them was the musical stylings of a hip hop and R&B aficionado on the ones and twos.
D-Nice continues to keep the virtual clubs popping and is now partnering with luxury goods company LVMH for a three-day virtual experience to celebrate the two-year anniversary of Club Quarantine. The first virtual event took place on Thursday (March 18th) and continues until Saturday on his IG Live from 12pm to 2pm PST (3-5pm EST).
BET.com talked to the Harlem native about the partnership, his upcoming gigs in Las Vegas and Carnegie Hall and why he still feels "a bit weird" receiving his flowers and celebrating his contributions to the culture.
BET.com: What are some of the vibes you're planning to give viewers as we toast the second anniversary of Club Quarantine?
D-Nice: LVMH reached out and said they wanted to celebrate me with a three-day experience, which means it will be the first time that I actually have real deal people here in club quarantine.
It's a house party vibe sponsored by LVMH. We're gonna have a champagne toast today,  and tomorrow we have tequila. We have some Hennessy X.O so it's gonna be a vibe. You should be here.
BET.com: Aye, next time let us know. Now, LVMH came to you specifically to do these events. How does it feel to be recognized in this way?
D-Nice: Um, you know, it's still a bit weird at times. Throughout my career, I've always done things for other people. You know, that's just what I enjoy doing. I like to be that source of inspiration for people. Whether it's my philanthropic work, I just love doing things for people. So, to have a celebration in my honor still feels a bit weird, but the beauty of this celebration is, it's done with love — because I did something to give back to so many people. It's the best way to celebrate.
BET.com: Something truly special about this partnership with LVMH is they plan to match your donation to Black Girl Ventures. Why is that specific organization important to you?
D-Nice: A lot of what I do has been based on my two daughters. I have an older daughter who graduated from Spelman and then from Penn State law school. Then I have a younger daughter who is 10-years old and she's doing extremely well in school. When I partnered up with LVMH and they decided on donating to Black Girl Ventures, I thought it was absolutely phenomenal. It was the way to go and made me glad we had a conversation on my love for doing things for Black women.
BET.com: A lot of folks, including myself, have branded you as "The Pandemic DJ King". How does it feel to see the impact you've left?
D-Nice: The best part about the experience, outside of doing something for people, is that there's a business side too for other DJs who look like me and can say, 'hey, I can be there too.' Like, that is a great feeling. I'm actually playing Las Vegas for my own weekend and I'm about to play Carnegie Hall and we're going to announce the artists [supporting] soon. I'm doing things that I didn't see many DJs that look like me get to accomplish.
BET.com: Do you have any favorite moments that happened during Club Quarantine?
D-Nice: Michelle Obama is going to be number one. I think that's always going to be my favorite moment. The Drake moment is a favorite of mine too because he was in there before the hype like three nights in a row just listening to music and vibing so that means I resonate with not just my generation but also the younger generation too.
BET.com: Let's flip it…when you hit a club as a patron, what artists are you hoping the DJ plays to get the crowd moving and grooving?
D-Nice: It depends on which club. If I'm hanging out at a club that's on the younger side and vibing with them, I would want to hear "Laugh Now, Cry Later" by Drake. I love that song. Now if I'm hanging out with my age demo, I personally want to hear "Square Biz" by Teena Marie. That song moves my spirit.
BET.com: Let's talk about the Vegas residency. You have Keyshia Cole, Fabolous, Jagged Edge, Tank, El Debarge, Amerie, Mya, Fred Hammond and a few more tapped to perform during your set from Sept. 2-4. How excited are you to hit the stage with these amazingly talented artists?
D-Nice: I realized that this is extremely big, like a cultural moment. Keyshia hit me and said, 'hey, when are you gonna have me on one of your CQ lives? I reached out to everyone, and they were just excited about joining. This is big because it's not only just hip hop — we also have gospel, we have panel discussions on mental health and wellness on financial literacy. It's not just a party—it's definitely a party with a purpose.
BET.com: What other business ventures are you into?
D-Nice: I invested in a wine brand called Maison Marcel which is a French venue. We have a rosé, a red wine, and a red blend. I just want to do things that make me happy.  I drink wine all the time so why not invest in it?  I've worked with the Hennessy brand for many years, which is actually what inspired me to want to pursue and learn more about being in the spirits and wine business. I just want to continue to earn a decent living to provide for my family and also give back bro. I've had accidental fundraisers on my IG and raised money for Girl Scouts, HBCUs, the Apollo Theater, and more.
BET.com: Hip Hop is turning 50 next year. What are your thoughts on the culture today as we approach the milestone?
D-Nice: It's beautiful to have been a part of hip hop in its golden age with my group. But where we are now, it's nice to see hip-hop artists making enough money to provide for their families. It was a tough thing to do and make enough money to even buy your mom a home or whatever it was that you were trying to do. I love hip-hop culture. I don't frown upon anything that is being done [today] because I feel like both can exist and there's a time and a place for all of it. I'm happy to have contributed to hip hop on any level as a producer, rapper, and songwriter. I'm just happy that I made major contributions to the culture.
---
Ty Cole is a New York-based entertainment reporter and writer for BET.com who covers pop culture, music, and lifestyle. Follow his latest musings on Twitter @IamTyCole.
*This interview has been edited for length and clarity