Joey Bada$ Defends Bill Cosby and Blames the Media for Brainwashing Everyone
Does he have a point?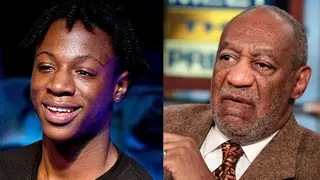 Joey Bada$ feels strongly about the negative attention his childhood idol Bill Cosby has been getting in the media.
A few days ago, The New York Times obtained a deposition that revealed some harrowing details about Cosby's past, best described by the Times as "an unapologetic, cavalier playboy, someone who used a combination of fame, apparent concern and powerful sedatives in a calculated pursuit of young women." 
The 20-year-old rapper went on Twitter to defend Cosby, blaming the media for slandering public figures and brainwashing readers in the process. His full rant can be read below:
"I don't f**k with the Bill Cosby slander. Ofcourse I'm always against a rapist but it's just like yall EAT UP anything the media feeds yall.... You internet kids know NOTHING except what they put in front of you on these devices. Every media site can start slandering anyone at any moment with some half a** story and you guys will f**king believe it. At the end of the day... Yall know the media is all propaganda and distractions anyway. The media rapes, brainwash, kill and humiliate more people than anyone on this planet bruh. F**k you mean. You always gotta know there is a REAL story underneath the COVER story."
When Bada$ saw that he was receiving some backlash about his comments, he continued to blame the media, comparing the fact that there are "people out here killing black children, abusing women and walking free of prison bars and media slander."
He continued, saying, "The MEDIA knows what to tell you. They know what you know and they know what they want you to believe. On that note twitter have a nice day. You all have me misunderstood. 
But just answer this question.... If rape is such a bad thing to yall then why r yall helping the media make jokes about it?? Thats why I don't think the slander is funny... he raped multiple women? Ok. Do you think these women feel pleased when they see a meme on the internet bout what was really done to em? That's the part that's not funny to me.... The funny part is how gullible you people are! I don't want to believe that the media isn't brainwashing us the same way America doesn't want to believe it killed and enslaved black ppl."
The Brooklyn native tells his fans to head to his Snapchat to hear the full side of his argument. Do you agree or disagree with it?
BET.com is your No. 1 source for Black celebrity news, photos, exclusive videos and all the latest in the world of hip hop and R&B music.

(Photo: Brendan Smialowski/Getty Images, Daniel Boczarski/Getty Images for BET)