Eric André Says Losing 40 Pounds For Show Wasn't 'Worth' It
The comedian underwent a body transformation ahead of the sixth season of his hit show.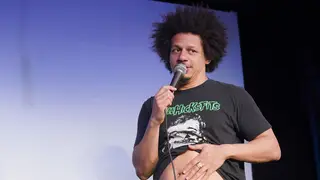 Eric Andre is weight loss advice in a way that only Eric Andre can. The 40-year-old comedian is telling fans to just "stay fat."
After a grueling six-month diet and fitness routine, Andre dropped from 213 pounds to 173 and less than 9% body fat, according to GQ. He started on the journey after gaining weight last season.
And, while he says it was nice fitting in his "old jeans and shorts," he added that the improvements came at the cost of his mood.
"My assistant came up to me and asked me [how I] I feel — f–ing hungry! I remember being irritated," he recalled.
He added there's a reason that "fat people," such as "sumo wrestlers" and "Santa Claus," are "happy."
"Skinny people have f—ing attitudes because they're f—ing starving," the "Bad Trip" star said.
"I say stay fat. If you're fat or chubby, stay that way. I felt great … but it wasn't worth cutting out French fries."
The sixth season of the cult favorite The Eric Andre Show is on Adult Swim. The irreverent talk show/prank show has made the comedian a household name.
"Eric is back behind the desk like never before; ripped, shredded, full of energy, complete with beads of sweat dripping down from his taut nips onto his glistening six pack abs," the network wrote in their announcement. "Watch pampered celebrities regret their choices, rappers get the runaround and a slate of street pranks so egregious they collectively inspired a record 30 phone calls to 911."
The comedian shared some before and after pictures of his fitness journey on his Instagram.
He also told GQ that he learned some life lessons through the process, including finding "balance" and "moderation."
"Life is about balance," Andre said. "There's a metaphor in Buddhism where you're like a string instrument—like a violin. If you wind your strings too tight, they're going to pop. If the strings are too loose, then you're all out of tune and don't perform right. You can't be too hard on yourself. You have to know when to focus and be diligent. But you also have to live a little and give yourself some relief from the stress of life."
However, he also told GQ that the results may be short-lived, saying that as soon as filming was over for the season, he "ate an entire pepperoni pizza."
"And then I went to Portugal and drank my weight in wine. I got back from the trip and stepped on the scale, and I undid six months of work in about three weeks," he added.
All in all, André said that while his overall health improved, he prefers "hot Cheetos, rum, cognac, and playing video games."