Democrats Press Senate to Confirm Mel Watt to Head Housing Agency
Rep. Mel Watt needs additional votes to win confirmation to head the Federal Housing Finance Agency.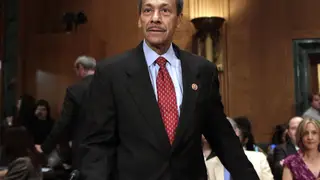 North Carolina Rep. Mel Watt could make history on Oct. 31 in one of two ways. He could win confirmation as the next director of the Federal Housing Finance Agency (FHFA) or become the first sitting member of Congress since before the Civil War to have his nomination blocked by the Senate.
Henderson's organization as well as the congressional Black, Latino and Asian Pacific American caucuses and several major civil rights and affordable housing groups urged lawmakers on Wednesday to confirm Watt to the post.
But as the Senate prepares to take up the matter, there's still a question of whether he has the 60 votes needed to bring it to the floor. The entire Democratic caucus and North Carolina's Republican Sen. Richard Burr are expected to back Watt, but he also will need five Republican votes to prevent a filibuster that would halt the process.
The conservative Club for Growth on Tuesday warned lawmakers that a vote for Watt would mean a black mark on the organization's annual congressional scorecard.
South Carolina Sen. Tim Scott is reportedly still undecided, while others, like Tennessee Sen. Bob Corker, have from the start not budged from where they stand. Earlier this year Corker said that Watt is not politically neutral enough and more recently has questioned the congressman's qualifications to lead FHFA, which oversees mortgage giants Fannie Mae and Freddie Mac.
Such a notion, one lawmaker told BET.com, is absurd because Watt is perhaps one of the most qualified people in the country to head the housing agency.
"That's an insult. They may say that, but they know he's qualified," said the lawmaker, who suggested that anyone who wonders why Watt's opponents would say otherwise should "read the tea leaves."
According to civil rights, housing and banking leaders, Watt is more than up to the job and has worked on housing issues during 22 years as a private practice attorney and for 21 years as a member of the House Financial Services and Judiciary committees.
"He has developed a proven track record of fighting to rein in deceptive mortgage lenders, protect consumers from abusive financial practices and expand affordable housing, as well as working across the aisle to find common ground on critical issues," the White House said.
Henderson said that in addition to experience in Congress, expertise in policy and a firm grasp of the reforms needed to help build and maintain stability the housing market, Watt would be an advocate for people of color and others trying to achieve the American dream of homeownership.
"Latinos, African-Americans, Asians and white working class Americans who are struggling to get a leg up on the next rung of the economy all deserve to have a spokesperson who's able to connect with their interests, the interests of Congress and the need for reform," Henderson told BET.com.
Watt is anxious to fill the position because of the important role housing plays in the economy and says he understands it "from the front end to the back end" and believes he can have a positive impact. In the meantime, he's trying to maintain a positive outlook about the outcome of his confirmation vote.
"I've done everything that I can do. I've talked to people and explained my credentials and approach; it's above my pay grade at this point," a sanguine Watt told BET.com. "I learned a long time ago, if you can't control a situation there 's no sense in worrying yourself to death or being vexed about it. I'm anticipating and hoping for a favorable result."
BET Politics  –  Your source for the latest news, photos and videos illuminating key issues and personalities in African-American political life, plus commentary from some of our liveliest voices. Click here to subscribe to our newsletter. 
(Photo: REUTERS/Yuri Gripas)