Documentary: NASCAR Driver Bubba Wallace Discusses Decision To Wear BLM T-Shirt, Despite Consequences
Netflix releases six-part docuseries.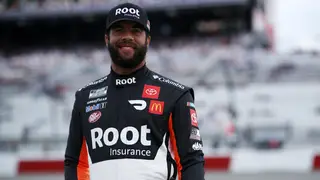 In Netflix's Bubba Wallace documentary slated for release on Tuesday (Feb. 22), the NASCAR car driver discusses his decision to wear a Black Lives Matter T-shirt shortly after the murder of George Floyd. It put him in "a sticky situation" in a sport with fans who cherish the Confederate flag.
Race: Bubba Wallace follows Wallace, the only Black driver in NASCAR's Cup Series, "as he uses his voice and talent to change the sport," Netflix says.
The six-episode series follows Wallace, who is biracial, in his first year with 23XI Racing, making him only the second Black driver after Wendell Scott to win a Cup race in NASCAR history, according to NBC Sports.
PEOPLE received an exclusive clip from the documentary in which Wallace talks about what prompted him to wear the BLM T-shirt, despite concerns about how it would impact his racing career.
In the clip, Wallace, 28, appears with his fiancée Amanda Carter, who talks in the film about him "wanting to do something" to support the BLM movement at a race in Atlanta in June 2020.
Wallace recognized that would put him in a "sticky situation," he says, "But you know what? This is what needs to happen."
In a voiceover, Carter recalls, "He was so dead set on making a statement."
Wallace adds, "I was just gonna show up with that shirt on. I thought I was gonna lose my ride, to be honest with you."
As the protests over Floyd's killing raged, Wallace told CNN that the next step would be "to get rid of all Confederate flags.
"No one should feel uncomfortable when they come to a NASCAR race. It starts with Confederate flags," Wallace said. "Get them out of here. They have no place for them."
He followed that up with plans to drive a racing car with a Black Lives Matter paint scheme.
"I think by running this branding on our car, putting the hashtag out there, bringing more awareness to it, it lines up with the videos that we had put out as NASCAR," Wallace told CNN. "Listening and learning. Educating ourselves. So people will look up what this hashtag means. And hopefully get a better understanding."