Gucci For Gucci! Gucci Mane Is The Tattooed Face Of The 2020 Gucci Campaign
His new campaign is also the cover of his upcoming album, "Woptober II."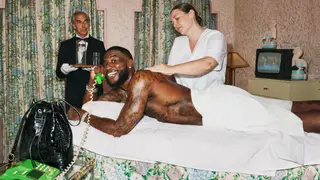 It's the collaboration that we've literally been waiting years for! It's more than fitting (and about time) that Gucci Mane is modeling and collaborating with the luxury fashion house for his namesake, Gucci, in the most Wopster campaign we've ever seen.
With a rap persona like Gucci Mane, it's clear that Gucci loves the finer things in life, including designer fashion. Gucci, born Radric Delantic Davis, is starting off October right after announcing both his collaboration with Gucci and his new album, Woptober II. With a campaign slogan like "Gucci is a party and everyone is invited," Gucci Mane's showing off his modeling chops proves to us that his love for luxury is more than just a lifestyle -- it's another money move!
See Gucci Mane's Tattooed Face In The #ComeAsYouAre_RSVP Campaign For Gucci's 2020 Cruise Collection:
With creative direction by Christopher Simmonds and photos by Harmony Korine, this Gucci x Gucci campaign, conceived by Gucci's creative director, Alessandro Michele, is giving us serious '70s nostalgia as Gucci Mane lounges around the Villa La Furibonda in Rome. Adding to the extra-ness that is Gucci Mane, the shots feature him taking a bubble bath with a pair of Gucci trainers; posing in a vintage tracksuit and shades in a Gucci logo embellished, vintage car; and receiving a massage while taking a phone call, which is the shot used for his album cover. Pimpin' ain't easy, but Gucci sure does make it look like it is, especially in this campaign video!
Now, that's our type of party! With Gucci Mane showing off his bod to finally model for Gucci and his Woptober II album dropping October 17, our Woptober is definitely off to a great start.