Tasha Thomas, John Crawford's Girlfriend, Killed in Car Crash
Police believe the cause of Thomas and Fredrick Bailey's fatal accident was excessive speed.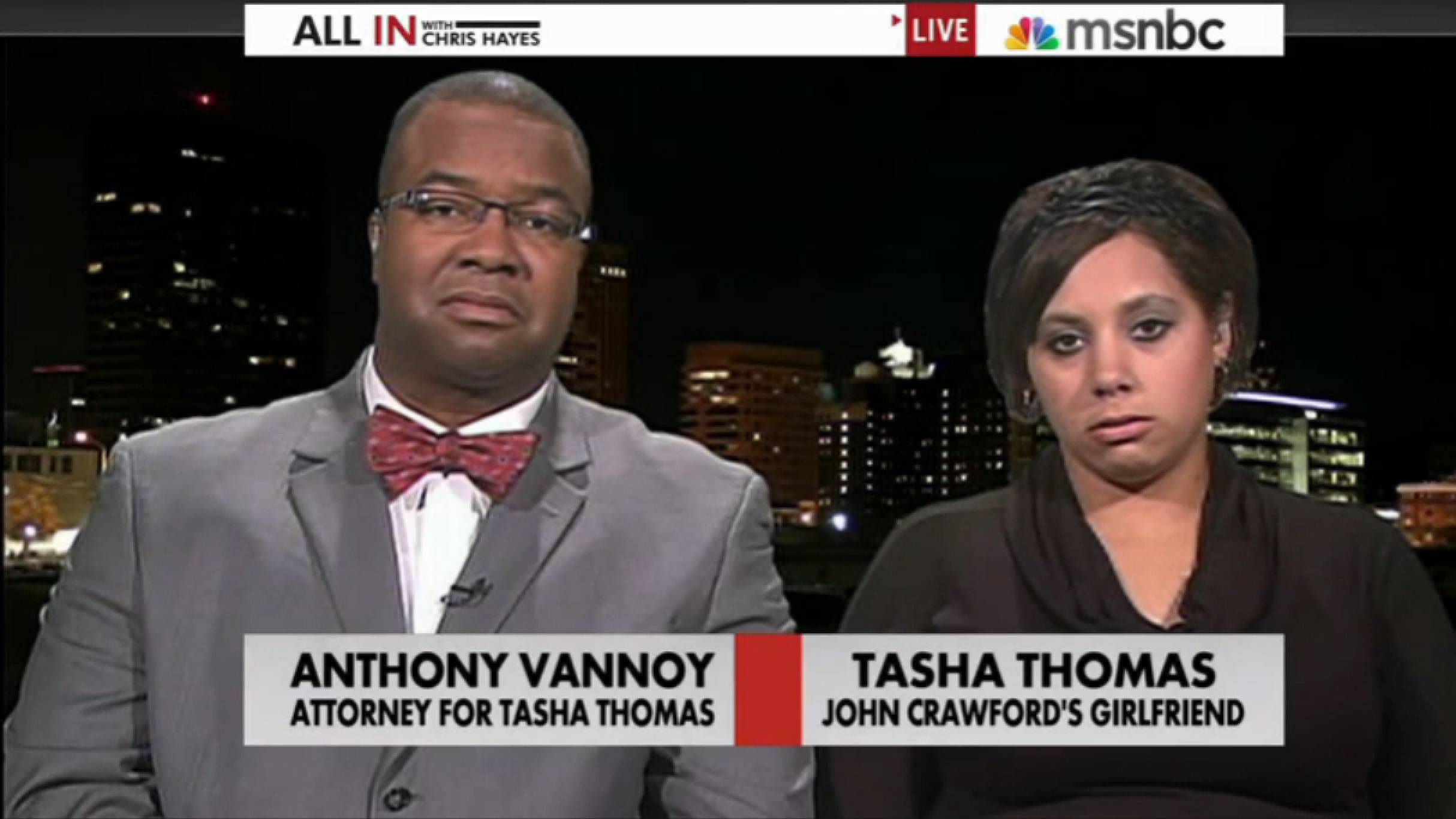 Tasha Thomas, the girlfriend of John Crawford III, a Black man fatally shot by police in an Ohio-area Walmart last year, has died in a car crash, ABC 22 Now reports. 
According to ABC 22 Now, authorities were able to identify Thomas because records from the county coroner's office matched the same birth date and address found in police reports from the Aug. 5 police shooting of John Crawford.
Thomas, 26, and Fredrick Bailey, 30, were both killed in the crash on Thursday afternoon in Dayton, Ohio. Officers told ABC 22 Now that the car had been traveling between 90 and 100 mph, with Bailey driving, when it crashed into a pole and flipped over several times. Both Thomas and Bailey were ejected from the vehicle.
An eyewitness told reporters that Bailey had still been breathing when he first approached the victims after the crash.
"They did a great job at trying to save that person but we were later told that that person did pass away at the hospital," said Sgt. Coleman, referring to Thomas. Sgt. Coleman also noted that it was "very seldom" that the area had driving accidents.
ABC 22 Now reports that police had not been able to determine if Thomas or Bailey were wearing seat belts during the crash.
Thomas's name made headlines last December when The Guardian published a video showing local police interrogating the woman directly after the fatal shooting of Crawford.
In the video, Detective Rodney Curd is shown aggressively accusing Thomas of lying, threatening her with jail and suggesting she was high on drugs. The questioning allegedly went on for 90 minutes before the detective informed her of Crawford's death.
BET National News - Keep up to date with breaking news stories from around the nation, including headlines from the hip hop and entertainment world. Click here to subscribe to our newsletter.