Op-Ed: How We Can Reimagine Black Maternal Health in the Changed Landscape of Dobbs
With the overturning of Roe v. Wade, and the dangers it presents, now is the time to rethink how we approach the issue.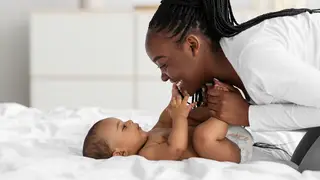 As Black Americans celebrated Black History Month in February, our joy was diminished by yet another killing of an unarmed Black Man at the hands of police. Tyre Nichols, crying out for his mother in the last moments of his life was a stark reminder that every mother's worst fear for her child is a fear Black mothers still find realistic.
As clinicians who have committed our work lives to ensuring safe, evidence-based care as clinicians for pregnant women, we raise our voices in our capacities as a nurse researcher, nurse midwife, and OB-GYN to speak out about intersections that impact Black life and well-being. As Black and Afro-Latina women, we recognize the roles and responsibilities we have both as clinicians, but also as moms, sisters, aunties, and community members.
In light of the discussions about pregnancy outcomes (i.e., abortion, adoption, birth, miscarriage), it is important that precision in language be achieved – this requires an understanding of intersectionality, a term coined by Professor Kimberlé Crenshaw that is defined as "a metaphor for understanding the ways that multiple forms of inequality or disadvantage sometimes compound themselves and create obstacles that often are not understood among conventional ways of thinking."
As Black History Month passes and Women's History Month emerges, we pay homage to the incredible work of the U.S. House of Representatives' Black Maternal Health Caucus to secure funding for portions of the Momnibus Act that make essential investments in preventable maternal morbidity and mortality.
The Black Maternal Health Momnibus Act of 2021 is a piece of legislation introduced in Congress to address the crisis of maternal mortality among Black women. The bill is designed to improve access to maternal and postpartum care, as well as to address the systemic racism and other factors that contribute to the disproportionate rates of maternal mortality and morbidity among Black women. The Momnibus Act is actually a package of 12 bills that address different aspects of maternal and postpartum care, with key provisions of the legislation including: Improving access to maternal and postpartum care, and morbidity, including by investing in affordable housing, nutrition assistance, and transportation services and addressing implicit bias and racism in maternal and postpartum care, and developing standards for cultural competency in healthcare.
We believe that these funds will be crucial in light of the overturning of Roe v. Wade and now in the context of Dobbs decision as the law of the land.
Losing the protections of Roe will now mean that some proportion of pregnancies that would have otherwise ended in abortion may continue and given our broken maternal health systems, this will have grave consequences for Black pregnant people. This is where and why precision in language will be helpful in demanding what Black communities deserve.
Reimagining Black maternal health in the changed landscape of Dobbs v. Jackson Women's Health Organization will require several interventions that have been proposed by reproductive justice organizations across the country. With Dobbs, the court held that the Constitution of the United States does not confer a right to abortion- meaning that abortion access is dependent upon where a woman lives. Most recently, through the Visioning New Futures for Reproductive Justice declaration, a bold roadmap has been developed as a path forward to improve outcomes for all communities. From that document, we would like to highlight a few areas that are directly actionable to improve population health and health of Black communities in particular. We present our reimagining specific to patients and communities seeking care, workforce development, and community-engaged, involved, developed, and led collaboration and significant investments that need to be made.
Communities Seeking Care – Research and data have shown that communities would prefer caregivers that look like them and come from the communities where they live, work, pray, play, and thrive. Concordant Care has been associated with improved experiences of care and in some circumstances, improved health outcomes. We believe reimagination requires creative methods to diversify the health professions using the opportunity of training people we previously have served.
Workforce Development – Mentoring and Belonging is one method that has been co-developed by one of our co-authors (Gebre) to ensure success of the Black, Indigenous, and other people of color can be successful in educational programs. Midwifery has been shown to be one potential solution to the Black Maternal Health Crisis, however, the pipeline of midwifery requires expanded ability to recruit and retain diverse candidates.
Community-Engagement – Implementing a Maternal health and PRegnancy Outcomes Vision for Everyone (IMPROVE) Initiative provides a prime opportunity to connect communities with academic institutions and health systems to do the necessary work of designing effective interventions. The federal government has recognized that funding is essential to develop relationships and to establish norms for partnership. We applaud the efforts across the National Institutes of Health as well as the Patient Centered Outcomes Research Institute for understanding the important role that communities play in reducing poor health outcomes for minoritized communities.
We hope the future will allow us to collectively reimagine Black Maternal Health in the context of Dobbs and the overturning of Roe as we have an opportunity to redesign public health, clinical health services, and policy to achieve reproductive justice and perhaps move closer to health equity.
Monica McLemore PhD, MPH, RN is a Professor in the Child, Family, and Population Health Department at the University of Washington.