Khloé Kardashian Shuts Down Criticism of Blac Chyna's Mom Skills
The reality star asked people "to lead with love and understanding."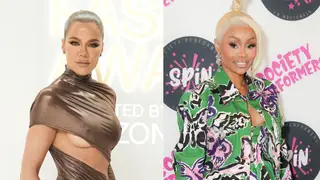 Fans were quick to jump on Khloé Kardashian's off-hand remark during a recent episode of The Kardashians. During an episode of the reality show, Khloé described herself as being "like a third parent" to her niece Dream, 6. The little girl is her brother Rob Kardashian's only child.
Khloé took to Instagram and addressed the fan chatter in an IG story post, per PEOPLE, which captured the statement. "It saddens me to see clickbait headlines that are taken out of context or twisted to be something it's not," The Good American co-founder began. The 39-year-old mother of two went on to say that she is close to all of her nieces and nephews but that she and Dream have a close relationship because of how close she is to Rob.
"Life is challenging enough. I hate how something so sweet as Dream's 6th birthday is getting twisted."
"Rob is doing the best he can as a parent and in life. Angela is doing the best she can as a parent and in life," she said, referring to Blac Chyna, who recently reverted to using her given name—Angela White.
"I am doing the best I can as a parent and in life. We are ALL trying to do our best in life," she continued. "Our children are healthy and happy! Most of all they are LOVED!! LOVED by everyone in our tribe."
"I'm sure the narrative of 'The Kardashians VS Chyna' is more fun to read about, but there really is nothing there anymore. The focus is on Dream and her happiness and making sure she feels unconditional love at her mommy's house, her daddy's house, and any family member's house for that matter."
"Please stop pinning us against one another. Life is hard enough," she concluded. "Let's try to lead with love and understanding, especially when children are involved who may see your clickbait one day."
Rob Kardashian appeared regularly on the Khloé and Lamar tv series, which starred his former brother-in-law, Lamar Odom. He also starred on a show with Blac Chyna called Rob & Chyna, which only aired for one season in 2016.
Since, Rob has not appeared on the new show The Kardashians starring his sisters and mother on Hulu.
In a candid moment on a recent episode, Khloé said, "I do think Rob will come back to the show. He talks about it a lot. He does," she shared, per Entertainment Tonight. "But I do know Rob has been through a lot, personally, but he's literally the best dad that I know, and I'm so proud of him for that. He's just feeling really good about himself. So I have faith that soon he'll be back on the show."