Emotional 'Black Panther: Wakanda Forever' Trailer Mourns Chadwick Boseman
"We put our love for Chadwick into this film," director Ryan Coogler said.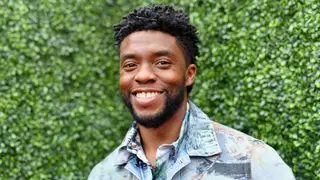 Chadwick Boseman's untimely death in 2020 continues to reverberate today. In a new trailer for Black Panther: Wakanda Forever, the late actor's presence can be felt even in his absence.
According to Entertainment Weekly, the powerful trailer of the Ryan Coogler-director was shared on Saturday (July 23) by Coogler and cast at the Marvel Studios' Hall H panel at San Diego Comic-Con.
"Chad is no longer with us physically, but his spirit, his passion, his genius, his pride, his culture, and the impact that he made on this industry will be felt forever," Coogler said. "We put our love for Chadwick into this film."
In the trailer, Boseman's presence is direct, as a reimagined version of Bob Marley's "No Woman No Cry" plays while Shuri (played by Lettia Wright) and Queen Romonda (Angela Bassett) mourn the loss of their king. As the trailer continues and a mural of Boseman pops up, the music transitions into Kendrick Lamar's "Alright."
The film, which is scheduled for a cinematic release on November 11, 2022, will feature new roles: Namor the Sub-Mariner (played by Tenoch Huerta) and Ironheart (played by Dominique Thorne).
Prior to unveiling of the montage, Coogler wasted no time talking about Boseman, who's dynamic performance as T'Challa in Black Panther's first installment in 2018, helped catapult the film to worldwide success.
"Five years ago, I sat about right there, and we premiered the first footage from Black Panther," Coogler recalled on stage. "Sitting next to me, right to my left, was our T'Challa, the late great Chadwick Boseman. The cast, including Chad, hadn't seen the footage yet, so when we played it, he was right next to me, and he was excited, and he grabbed my shoulders. If you ever saw Chad in person, he had these enormous hands."
Coogler noted that he felt Boseman's presence in the room and "I can feel his hand on me now."
Watch the trailer for Black Panther: Wakanda Forever below: