Michelle Obama Updates Us On Sasha's Senior Year And Explains Why She Won't Run For Office
The former FLOTUS also told "The Today Show" about her new foundation to help adolescent girls' education around the world.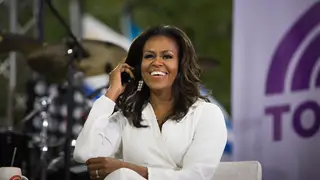 Former first lady Michelle Obama sat down with NBC's Today Show on Thursday to speak candidly about her life after leaving the White House. Mrs. Obama not only definitely said she will never run for office, but she also dished about her daughters and the candy pass-off from George W. Bush at John McCain's funeral.
The conversation started with a popular question from Savannah Guthrie: "Would you ever run for elected office?"
"Absolutely not," replied Obama.
"I have never wanted to be a politician. I want to serve; I want to be out there. There's so many ways to make an impact. Politics just isn't my thing," she added.
"As a woman you understand where your voice works best... Find your passion. I want to work on positive issues with girls around the world."
Mrs. Obama then spoke openly about how nice life outside the White House has been. She also discussed her newly launched initiative aimed to help education for girls around the globe.
"It's opening my door and walking out and enjoying the weather and sitting on my patio," Michelle said was the best thing about her return to life as a private citizen.
"Going to my girls' games and really being a mom. There's nothing new going on, it's just where out in the real world," she added.
Obama also spoke about her daughter Sasha, 17, and how her senior year of high school is coming and going like wave.
"We have a senior in high school, so it's all the drama that goes with it. senior year is quite intense because it's testing, it's applications, it's grades," she said. "We're riding that wave with our senior."
She then discussed both of her girls and their transition out of the public eye.
"They're doing well," she said. "I'm so proud of them. They are some of the reasons why this issue means so much to me. I think about what it means for them to have their voice heard and to come out of those eight years confident and poised."
"It's tough growing up in the public eye and they spent the majority of their life in the international spotlight with all the criticisms and the judgment. Now we're in the era of social media where every little thing gets blown out of proportion."
Finally, the former first lady explained the moment during Senator John McCain's funeral where former President Bush was seen handing her a cough drop.
"I didn't realize at the time that anybody noticed what we were doing… He is my partner in crime at every major thing where all the formers gather… I love him to death," she said of the former president.
"It was a simple gesture. He was getting a cough drop from Laura - they were old cough drops, they were in a White House box," she joked.
"When you educate a girl, you educate a family, a community, a country," she said.
The program is an initiative of the Chicago-based Obama Foundation. The website and promotional video explain how more than 98 million adolescent girls worldwide don't go to school and when girls are in school, poverty goes down, GDPs go up, families become stronger, babies are born healthier "and the world gets better."