Here's How Geoffrey Owens Feels About Tyler Perry's Job Offer
The "Cosby Show" alum has been getting a lot of love.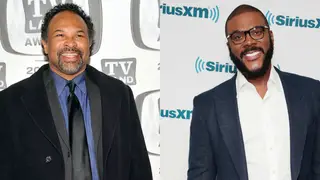 Former Cosby Show star Geoffrey Owens has been receiving a slew of praise and support from his thespian peers, one of whom is famed director and producer Tyler Perry.
Most recently, Perry took to Twitter to personally offer the veteran actor a job on one of his dramas on the OWN network, and now, Owens is sharing what he thinks of the noble gesture.
As many may already know, Owens was unfairly scrutinized for working as a Trader Joe's crew member after a photo of him working at the establishment was posted online. Fox News ran a story disparaging his honest job, which led to the public overwhelmingly rallying behind him.
Since then, Perry took to Twitter to offer him a gig, writing, "#GeoffreyOwens I'm about to start shooting OWN's number one drama next week! Come join us!!! I have so much respect for people who hustle between gigs. The measure of a true artist."
After the accomplished Hollywood heavyweight's comment gained significant traction across social media, Owens shared his thoughts during an appearance on Entertainment Tonight.
"That was kind of cool," he said. "I mean, that kind of sounded like he was saying, 'Come work with me.' I'm so, like, skeptical. Like, really? Are you actually saying come work with me? Because we've never worked together before. So, that's a very, very generous thing for him to say. And, we'll see what happens with that. But, that's encouraging."
Elsewhere in the interview, Owens further explained that he quit his now highly publicized job at the popular grocery store due to the widespread media attention it has received.
"I left at that point because I felt like just for my personal sake, my dignity and my emotional well-being, I didn't want to be in the store while I felt like people might be staking out the place as they did, actually," he said.
Watch Owens speak on Perry's generous offer and the whirlwind experience of the past few days, below: