Microphone Cardi B Used To Throw At Fan Sells For Nearly $100,000 At Auction
The proceeds will split between two charities.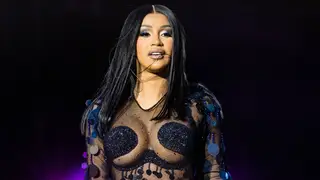 The microphone Cardi B threw at a fan while performing in Las Vegas last month has been sold for a pretty penny.
On Tuesday (August 8), the now treasured mic sold for nearly $100,000 in an auction on eBay, according to CBS News. The listing was coordinated by Scott Fisher – the owner of The Wave– the audio company that reportedly provided the microphone for the rapper's performance that day at Drai's Beachclub. He also told the outlet that his company has been providing audio equipment to the club since their grand opening over nine years ago.
As stated in the description of the ad, Fisher is confident the mic – a Shure Axient Digital Mic– is the one used by Cardi B. "This is the Shure microphone shown in all the viral videos that Cardi B threw at a person in the crown at Drais Beach Club on July 29th 2023," Fisher explained.
According to the online listing –which closed on August 8– 122 people bid for the microphone.
The mic similar to the one Cardi B threw typically retails for $1,000. In the auction, it sold for $99,900.00.
Fisher told the outlet that he anticipated the listing would amass much attention, but it exceeded his expectations. "I was hoping it would hit $5,000 but again I had no idea," he said. "I figured it would gain some attention nationally but the amount of news coverage has been staggering," he added.
The infamous moment occurred on July 29, while Cardi B was on stage performing when a woman in the audience splashed her with water. After that, the "I Like It" rapper got even and threw her microphone at the woman.